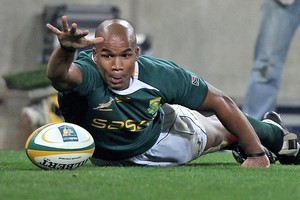 The reigning champions will look to become the first country to defend the World Cup.
Team bio:
World Cup Appearances: 4
Last World Cup result: Champions
Best-ever RWC: Champions (1995, 2007)
IRB Ranking: 3
Head Coach: Peter de Villiers
Key player: Morne Steyn. Give him enough opportunities in range of the posts and he could kick the opposition to death.
Overview:
South Africa will play a wide, expansive game, putting a smile on the World Cup.
As the billboard says, "yeah right". With the defending champions you know just what you'll get - big hard forwards smashing their way onwards, a savvy halfback and a No10 who'll kick the cover off the ball.
It mightn't be pretty but it could be pretty effective.
When South Africa turned up for the first half of the Tri-Nations with over 20 players "injured" back in Rustenberg, perhaps getting their kinks ironed out round a braai or two by the pool, they got an ill-advised public mocking.
When it comes to preparing for the only event which really matters every four years, it's surely up to you to decide your best method of getting as ready as possible.
So the most accurate way to assess South Africa's prospects is to look at their last game before flying to New Zealand. That was the 18-5 win in Port Elizabeth - five penalties and a dropped goal from Morne Steyn, backed by desperate scrambling defence and nary a sniff of a tryscoring opening.
Springbok fans are wont to junk the first two World Cups, from which they were absent.
When they were in the fold, they immediately won the crown in 1995 in an emotional extra-time denouement. They were third in 1999, quarter-finalists four years later before beating England in Paris to lift the trophy again in 2007.
Those who like to think the World Cup can be won with bold attacking intentions should reconsider. Defence tends to holds sway.
South Africa are in an intriguing pool. They have Wales first up, and the Welsh are feeling reasonably emboldened for that contest. Then Samoa are around the corner, and that could be a cracker at Albany. All minds lead to a South Africa-New Zealand semifinal - that's assuming both parties play their parts.
Six players are appearing in their third tournament: captain John Smit, locks Victor Matfield and Bakkies Botha, loose forward/lock Danie Rossouw, flanker Schalk Burger and centre Jaque Fourie.
Certain selections are all but automatic, or should be in coach Pieter de Villiers' mind.
Take Jean de Vill Fourie in the midfield; Fourie du Preez wearing No 9.
Anyone other than the veteran locks, Matfield and Botha, running out on the big days would be jaw-dropping. Expect Jannie du Plessis and Gurthro Steenkamp to start as first choice props while the loose forward situation could well become a horses for courses situation, wherein No 8 Pierre Spies is joined by either two big men, say two of Burger, Willem Alberts and Rossouw, or one of them plus the fetcher, Heinrich Brussow.
The interesting areas are at fullback, where Francois Steyn and Patrick Lambie bring different skill options; first five-eighths, where the gifted Lambie is an enterprising counterpoint to the ultimate kicking machine, Steyn; and hooker.
And there lies de Villiers' dilemma. Smit has been a fine leader but is on his last legs.
Bismarck du Plessis is by far the better hooker, ruthless, aggressive and dynamic with ball in hand. His disappointment at being subbed off for Smit against the All Blacks last month was etched on his face.
How de Villiers and co handle that conundrum will be fascinating.
"The squad has a backbone of proven title-winning ability and experience as well as a strong component of new stars," de Villiers said. "It has the experience and ability to make a strong challenge for the title."
There's no doubting that. Whether de Villiers has gone about his preparation in the right way remains to be seen.
Fixtures:
Pool D
Sunday September 11 v Wales, Wellington Regional Stadium (Wellington)
Saturday September 17 v Fiji, Wellington Regional Stadium (Wellington)
Thursday September 22 v Namibia, North Harbour Stadium (Auckland)
Friday September 30 v Samoa, North Harbour Stadium (Auckland)
- HERALD ONLINE