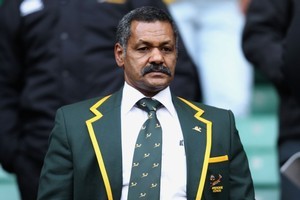 Peter de Villiers didn't look like a happy man in the stands as the Crusaders pummelled the Stormers at Newlands on Sunday.
Away from the public glare though, the Springboks coach might have afforded himself a wee smile because the Super 15 semifinal provided further confirmation that the world champions don't have what it takes to compete with New Zealand and Australia's attacking game.
Knowing he doesn't have the players to attack, de Villiers can get back to basics, which in South Africa involves trench warfare, lineout supremacy, field position, bombs, kicking the goals and letting opponents make the mistakes. This is a formula by which they are more than capable of defending their title.
The Stormers, with a test-class three-quarters line, were second rate, if not third. The more South Africa relies on their traditional strengths and the more they forget about any so-called obligation to make the World Cup an entertaining showpiece, the more dangerous they will be. They still have ample power in the forwards to win this year's World Cup so long as the champs have enough belief in their limited approach.
It's only when South African teams get away from this philosophy that they look out of their depth.
However a major mystery remains about South African rugby: why are they such ordinary scrummagers?
They have the bulk but not the attitude and/or technique to match. South African rugby should forget about the frills and institute a crusade to turn their scrums into massive weapons of destruction. At the moment, South Africa is letting the rest of the world off on this score, considering scrums should be at the heart of their power game.
But they are unlikely to ever match New Zealand and Australia in attacking flair for the simple reason they don't have Maori and Pacific Island players.
Virtually all of rugby's most dangerous attacking backs have Maori or Polynesian/ Melanesian heritage, to the point that even England sneak visiting players with those bloodlines into their national lineup.
Sonny Bill Williams, Ma'a Nonu, Robbie Fruean, Israel Dagg, Hosea Gear, Joe Rokocoko, Sitiveni Sivivatu, Rupeni Caucaunibuca, Rene Ranger, Isaia Toeava, Will Genia, Quade Cooper, Digby Ioane, Lote Tuqiri - there's a strong common denominator there and one not available to South Africa. If you can't beat them, don't even bother trying. That will be the South African motto.
The past two World Cups have been won by teams with narrow gameplans. The rules may have changed, but that rule can still apply.
De Villiers got the message loud and clear at Newlands, and his team is still dominated by an old guard of influential forwards. What's the bet South Africa arrive at the World Cup with a plan you could write on the back of a postage stamp, so long as it is big enough to fit the words "drop" and "goals" on it? They could swap notes with England - and rest assured, both countries will be all the more dangerous for sticking to their knitting, rather than trying to weave any fancy patterns.
TIME TO SHEAR LAM OFF
The horse may already have bolted, but Pat Lam should not be automatically reappointed as the Blues coach. He hasn't done a good enough job in the past three seasons to warrant anything other than searching and sceptical analysis by his bosses. There are no signs that anything has changed about the way the Blues play. They are erratic and fail when it counts.
Call it a hunch - but Auckland coach Mark Anscombe as the boss with Graham Henry as his sounding board/mentor might be a combination worth having faith in. But the Blues need to look further afield, even though world rugby is not stacked with outstanding candidates. Perhaps Welsh coach Warren Gatland is worth an approach. Crusaders assistant Vern Cotter, now in France, might come into consideration.
We have seen enough already to strongly suspect that Lam is not the future. I was among those who wanted Lam appointed in the first place but the bottom line is this: performances like the one we saw in Brisbane are just not good enough. As a Lam supporter, you still have to say enough is enough.
Sadly, there is nothing from the current administration which suggests they have any answers either. The Blues rely on stop-gap measures, such as taking in malcontents like Stephen Brett, Luke McAlister and Ma'a Nonu while they try to sort their lives out before heading off into the sunset.
HENRY SHOULD STAY ON
On the subject of Graham Henry ... if the alternative is Steve Hansen or a Hansen/Ian Foster combo, Henry must try to cling on as All Black coach whatever the RWC result.
Seriously, a Hansen/Foster partnership has disaster written all over it, unless you like a good laugh. Replacing Henry with Hansen makes no sense under any circumstance. Age should be no barrier to Henry staying on, especially if he is on the top of his game.
HEADLESS CHOOKS
Mystery of the NRL season: why are the Sydney Roosters so bad? Last year's grand finalists have a more-than-decent lineup, but they play like lost sheep. Something is seriously amiss in their camp.
TITANIC TEST LOOMS
Friday night is an acid test for the Warriors. if they lose to the wobbly Titans, count them out for the season. The last-placed Titans have called the 35-year-old Mat Rogers out of retirement - apparently as a morale booster - in one of the great NRL straw-clutching moments.
With two top forwards in Micheal Luck and Sam Rapira returning, and the pace of Shaun Johnson and Kevin Locke back, the Warriors will be expected to turn in a top performance. The coaching shenanigans will have been a distraction no matter what the official line is because the Warriors were not travelling well anyway. Cleary's fading regime will be in major trouble if they capitulate this week.
BETTER LUCK FOR WARRIORS
And finally ... we all knew that Warriors workhorse Micheal Luck was made of strong stuff, but how the heck has he returned from a major knee injury this quickly? Let's hope his courage has not got the better of him this time and that the knee is ready for action.
He is one of the outstanding figures in this crazy club's history and just the man to get the side humming in the right direction again.