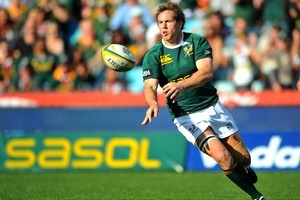 It is possible that one or both of Ruan Pienaar and Butch James could hurt the All Blacks at this year's World Cup.
Both men are rated a good chance to make the Springbok squad and, if they do, New Zealand should note the mature way in which South Africa has facilitated their respective returns.
James signed with Bath after the 2007 World Cup and stayed there until just a few weeks ago. He's now playing for the Lions with a growing lobby of South Africans calling for him to be handed the Springbok No10 jersey.
Despite the fact he's joining the Lions with just a few weeks of Super Rugby left, and only 10 weeks until the start of the Tri Nations, he is eligible for World Cup selection. He has actually been eligible since he joined Bath four years ago but while he won a few caps while based offshore, his chances of becoming a regular starter will be significantly higher by committing to play in South Africa.
James by all accounts has matured and developed in the last four years.
He is less prone to go head-hunting, more tactically aware and armed now with greater technical precision.
He could have extended his stay at Bath but he felt, at 32, this was his last chance to play at another World Cup. The Lions had money, the Bok selectors were keen to see him and back he came knowing that, if he is good enough, he'll be picked.
Should James make it to New Zealand this year, it will be hard to see him here and not wonder why someone like Nick Evans couldn't be with the All Blacks.
There was no impediment to James coming home; no penance period to be served. He could sign with the Lions and be confident that the selectors will take him seriously. The equivalent would be Evans, whose season finished yesterday when Harlequins played Stade Francais in the Amlin Cup, joining the Blues this week and then using the last few games and potentially the playoffs to push for a place in the All Black Tri Nations squad.
But of course this is not possible in New Zealand. The Blues are restricted to 32 contracts and there would be ructions within the squad if a late recruit were to be given a starting berth.
The current rules still require that returning players appear in the domestic competition prior to All Black selection. So, with Super Rugby entry closed, Evans would have to play in the provincial championship first - but the Tri Nations is played at the same time.
While the NZRU is adamant their current All Black eligibility rules protect the domestic competitions by keeping players here, they also deter good players from coming home.
Knowing the cumbersome route he would have had to travel was a factor in Evans deciding not to come home this year. Instead he'll be with the Harlequins again while James and possibly Pienaar will be at the World Cup, thanks to the greater flexibility of the South African system.
Pienaar is contracted to Ulster until the middle of 2012 and, while he will probably see out his final year in Belfast, he could sign a short-term loan deal that will see him return to South Africa.
Springbok coach Peter de Villiers was reportedly keen to see Pienaar and Paris-based fullback/centre Frans Steyn play some rugby in South Africa ahead of the World Cup to become accustomed to the pace of the Southern Hemisphere game.
The Stormers weren't convinced they had enough depth at first five so they have made a formal request to Ulster to take Pienaar on loan.
When Stormers coach Allister Coetzee explained why, after losing to the Chiefs last week, he made it all sound so matter of fact - a sensible, professional decision to bring an international player into the squad at a time when experience and composure on the field would be vital.
If Ulster agree then both the Stormers and Springboks are going to benefit and who would rule out Pienaar playing a critical role against the All Blacks in a World Cup semifinal?
James - the man described by captain John Smit as the beating heart of the 2007 side - could close down Dan Carter in such a critical game.
"Defensively, I think he's misunderstood in the sense that those big hits are more calculated than they look, and it's not just an individual thing but something that's planned within the team context," said Bath coach Steve Meehan of James in trying to explain why the first five will be vital to the Boks.
"Those big hits inspire team-mates to follow suit and it can also put them on the front foot. There's nothing random about Butch's defence."
The Boks seem to have a handle on how professionalism really works. They have a clear understanding it is about getting the best South Africans on the field - not the best South Africans who have followed a certain path.