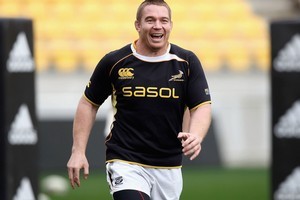 Subtlety and surprise will not be part of the Springboks' World Cup offering in 2011. They will come to New Zealand with a sledgehammer, ready to smash down brick walls.
By retaining John Smit as captain, they are making little effort to hide their intent. Victor Matfield's presence as the vice-captain reinforces the package. They will work the set-piece, hammer the contact and keep the ball in the air.
The exciting talents of Patrick Lambie are unlikely to be seen. Fourie du Preez and Morne Steyn will team up and play with all the adventure of an English tourist.
It will be rugby's equivalent of egg and chips, with Springbok coach Peter de Villiers convinced that you can never go wrong with a classic.
The simplicity of the Boks' thinking is admirable. Already they have so much locked down - their leaders, a 51-man wider selection group, a game plan and a vision.
They have forced their assistant coaches to drop their extra-curricular activities, briefed every player in the country about the need to collect Super Rugby wins in New Zealand and will shortly welcome Rassie Erasmus to their management team.
When they look back, lack of planning will not be an area of regret. What de Villiers might later lament is his faith in Smit; his faith in Matfield, too, and possibly even his faith in a traditional blueprint that has served South Africa so well.
As he said in confirming Smit as his captain: "John and Victor have so much experience and we're lucky to be able to name them as captain and vice captain. To have both still available in a rugby World Cup year is a great boost. History has shown that those teams who do well at World Cups have experience and outstanding leadership and we've learned that you throw away that experience at your peril."
No one will dispute the value of experience, particularly at World Cups. Nor would anyone argue about Smit's leadership. But he's not the best hooker in South Africa. The Boks will be taking a colossal risk if they go through the tournament with Bismarck du Plessis on the bench.
Du Plessis is such an enormous threat - he drives the ball dangerously hard, builds momentum, throws well at the lineout and gives confidence to all those who play around him.
De Villiers is clinging to the hope that kick and rush is not dead. He had his epiphany at Twickenham last year when the Boks crushed England.
The week before they had been shredded by Scotland.
It all came right at Twickers, though. The mists of confusion lifted that day. De Villiers had seen all he needed to reject the brave new world of pass and run.
There is a weight of evidence to say he's on the right track. Knockout rugby has rarely, if ever, been the place for frivolity. It's tense stuff normally - drop goals flying in from all angles and forwards resolute in their belief that it's all up to them.
Old stagers like Smit and Matfield, Juan Smith, Bakkies Botha and Schalk Burger love that sort of stuff. They make it happen.
But there's an equally strong argument to be made that de Villiers is making a horrible mistake. There's a parallel to be drawn with Sir Clive Woodward.
He picked the right team, enforced the right style to win the World Cup in 2003. His English team, dubbed Dad's Army, were at their peak in 2003 - too good, too strong, too organised for everyone else. Appointed British Lions coach in 2005, Woodward remained faithful to the core of his 2003 team. But by then, the soldiers were too old, too limited, too ineffective.
Woodward thought he could come to New Zealand and bludgeon the All Blacks on their own patch. In three tests, the All Blacks scored 110 points and humiliated the Lions. Maybe de Villiers is making the same mistake.
Maybe he's failed to see what everyone else suspects - that Smit's time is over. Maybe even Matfield, too, has lost his place at the top table of world locks. Chris Jack easily rattled him in Timaru and he spent much of 2010 chasing shadows.
History is only a guide; not an exact tool by which anyone should predict the future. Rugby moved on last year and is progressing again in 2011.
Inevitably games will tighten towards the business end of the World Cup - but maybe not to the extent they have in previous tournaments. Everyone (New Zealand, Australia, England, Ireland, France and Wales) has been playing wide, ball-in-hand rugby in the last 12 months.
There is also a sense that everyone feels the need for rugby to break its shackles at this World Cup. Fortune, while it has never previously favoured the brave, might do in 2011.