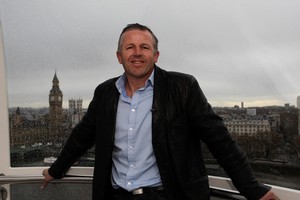 The Bulls won't even make it through to the knockout stages in defence of their Super rugby title, says former All Black captain Sean Fitzpatrick.
And Fitzpatrick launched a scathing critique of the Pretoria-based team's failings in this year's Super 15, as they crashed to defeat against the Western Force in Perth.
What Fitzpatrick said also raised serious question marks over the Springboks' World Cup campaign.
"This year, they haven't fired a shot anywhere," he said. "You look at Bakkies Botha and Victor Matfield and ... you wonder ... are they looking at other things, like Botha is off to Toulon?
"They can't even win their own lineout ball. Everyone talked about Fourie du Preez being injured last year and said everything would be fine when he came back. But he hasn't fired a shot.
"I think they are struggling with the amount of rugby they have played, and they are a bit tired.
Pierre Spies ... was a man mountain last year, so dominant. But he has not fired a shot at all this year and therefore you have to ask the question, what is the issue?
"Are they tired, are they playing too much rugby, have they got their minds on other things?"
Fitzpatrick suspects that other teams may have "found out" the Bulls and exploited their predictability.
"With the South Africans, if you take away their firepower in terms of their scrums and lineouts, they can be found wanting and definitely in this situation.
"This was a must-win game for the Bulls, they had to win it. But it is obvious they are a team that is struggling for confidence. They are dropping the ball and making a lot of mistakes.
"You wouldn't know they are the defending champions. They needed to win every game from this one on to make the top six. But now it is looking like the defending champions are not going to make it through ... to the knockouts. This was the end of their chances for this season."
Australian 1991 World Cup winner Michael Lynagh, Fitzpatrick's fellow panelist on BSkyB sport in the UK, said "the Bulls' forward pack was so dominant ... last year. It gave Morne Steyn and Fourie du Preez an armchair ride.
"But this year they are not so dominant. This year too, the pace of the game has picked up and they look a bit tired.
"Therefore, the whole game plan of the Bulls hasn't worked as well as it has in the past. And you also wonder whether opponents have worked out their game plan, stood up and knocked them over.
"They are normally a very structured side and maybe they need to go back to some of the old habits and structures they had, like Steyn putting them in positions on the field, off-loading in the tackle and a bit of continuity which they haven't had.
"They have been too indisciplined and unforced errors cost them a lot in the game against the Force."
Lynagh confessed that he too was bewildered by the modest form of Pierre Spies. "He was such a physical presence last year in their Championship winning team and you just wonder what's going on this time.
"It is obvious they are really struggling for confidence, that confidence is very low. But they have got to cut out the mistakes, stop making so many errors."
Peter Bills is a rugby writer for Independent News & Media in London.