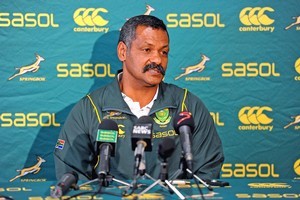 Whew! From all accounts, even among those wearing the crustiest Springbok blazers, there was some serious heat on Peter de Villiers and his South African coaching entourage.
That group and the players had managed a solitary Tri-Nations victory this season, one measly win in Pretoria against the Wallabies after trailing 21-7 at one stage.
It was not a good look. The results sheet looked shabby, P Divvy had made more vocal gaffes than George Dubya and there were some serious rumblings about the need to shore up the coaching group.
While de Villiers managed to bridge some of the awkward political and coaching duties, he had also lit more fires than the South African Rugby Union wanted to extinguish.
It was looking serious. Sanzar allies New Zealand, Australia and other leading nations like France must have waited warily for a result because of murmurings about an unfavourable conclusion for de Villiers and his cohorts Gary Gold and Dick Muir in their season review.
The Boks had the worst attacking and defensive numbers in the Tri-Nations, they seemed caught between injecting new players and retaining pillars like captain John Smit. They were hurt in the absence of outstanding halfback Fourie du Preez, though his deputy Francois Hougaard was a sharp rooster.
De Villiers did not appear to have grasped the law changes or been able to integrate them with the Springboks' natural skills and aptitude. He continued with strategies which benefited the Boks last season.
Round those issues, P Divvy made odd decisions like using Jean de Villiers on the wing, defending thuggish behaviour from Bakkies Botha, blueing with Francois Steyn and coming out with all sorts of verbal clangers.
Former Wallaby skipper Nick Farr-Jones labelled P Divvy's work unpredictable, controversial and a liability while Wales assistant coach Shaun Edwards called him an "utter clown" and commentator Brendan Cannon described him simply as a "clown" but had to apologise because of his high-profile work.
Then New Zealand and Australia chipped in asking for a Sanzar hearing into P Divvy's behaviour. That provoked the ire of SARU boss Oregan Hoskins, who labelled it a "declaration of war".
It was more like foolish. Why would New Zealand and Australia want a struggling Springbok coach removed? P Divvy is the best ally the Tri-Nations sides have for next year's series and subsequent World Cup.
Fortunately SARU came to the same conclusion. De Villiers will be in charge of the Boks on their end-of-year tour and unless there is a massive meltdown on that trip, he will be in charge for the seventh World Cup in New Zealand.
Now, you Brits, go easy on P Divvy. He's a good bloke, misunderstood. He's bringing over a composite side to tackle the Grand Slam, cut him some slack and just enjoy the journey because there will be a few laughs along the way.