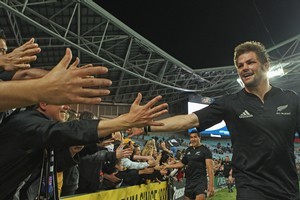 There was a huge anticipation in the lead-up to this match about how the All Blacks would go but they came through brilliantly.
I'm not sure they would have won a game like this 12 months ago. But there's a real belief about this side and they came out on top despite the absence of Daniel Carter and despite the number of changes made to what had been a settled side.
They struggled at times to overcome those changes in combinations but they never wavered in their belief.
They have a great leadership team, not only with Richie McCaw and Mils Muliaina but also with Ma'a Nonu and Conrad Smith. That has allowed players such as Keiran Read, my man of the Tri Nations, to flourish.
It's looking very, very good for the future. Exposing players such as Aaron Cruden to a game of this sort of intensity will be invaluable and they did the same with Colin Slade with 20 minutes to go.
Slade came on at a crucial time but did well, and Piri Weepu did a great job with the goalkicking.
When you make as many changes as the All Blacks did, it's very difficult to continue momentum.
What we have seen in this Tri Nations is the selectors putting out the best team week in, week out, and we have seen the benefits of that.
It has been a very good exercise to see where this All Blacks side is at. They had their hand forced with Carter's injury, and they also made other positional changes.
All in all, it has been an outstanding Tri Nations.
It could have been easy in this game for the All Blacks to say that nothing was riding on it and they were trying a few things. But they showed they are a class act against a Wallabies side who continued on in the same vein as last weekend.
On current form, the All Blacks will be hard to beat in the Northern Hemisphere but it is a difficult tour with five tests in five weeks and the selectors will presumably want to try out a number of combinations.
The UK started playing under the new law interpretations last weekend and we have seen a very different game.
The players need to be a lot fitter with the game played at much greater intensity.
The English players have five or six weeks to get themselves up to speed.
I was very proud of McCaw last night. He's a wonderful, wonderful All Black and I couldn't think of anyone better to take over as the most capped All Black captain.
He deserves every accolade that comes his way and I take my hat off to him.
I remember when he was in the New Zealand under-21 side, a team I managed. I told him he could go on to become one of the great All Blacks and he's done that.
He's very comfortable in the side and with everything he does, his team-mates feel more comfortable when he's there.