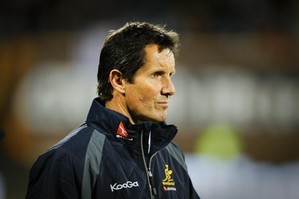 The distance between heaven and hell can sometimes be as tiny as one centimetre. Last week in Bloemfontein it proved to be 55.6m, the journey Kurtley Beale's goal sailed, to nail the Wallabies a two-point win over the Springboks.
Since the victory, Australia's first at altitude in South Africa for 47 years, the Wallabies have been roundly applauded for having taken the first step to proving their legitimacy as a World Cup contender next year.
However, had Beale's kick gone wide or travelled just 55.5m, only God and the devil know how much criticism they'd have copped in the aftermath of defeat. Actually, I know too, and the answer is plenty. They would have been crucified, and while I don't think it would have eventuated, the campaign to sack the coach would have ramped up big time.
While the critics can often be a bit heavy-handed with that wonderful advantage of hindsight, it is reasonable to ask a few questions when a team butchers a 26-point lead in a test match. Particularly so when coming just a week after they led the previous encounter by 14 points 10 minutes into the match, only to eventually lose by 13.
All up, Robbie Deans and his players are probably lobbying the Vatican for Beale's canonisation.
A defeat and they'd have travelled home with so many knives in their backs they'd have been pinged for excess baggage, but the beauty of victory wiped away some of the harsh reality of their second-half performance and allows them to approach tomorrow with the mentality of saints not sinners.
You can analyse the strategies, fatigue factors and one-on-one match-ups in any game, but the biggest unknown will always be the momentum that teams carry into matches and how they maintain it or indeed, build upon it. Without that win in Bloemfontein, Rocky Elsom's men would arrive for tomorrow night's match with a momentum reading somewhere around zero. It's inestimable how much more confidence they'll have now, but the real test will be about its maintenance.
They'll only be a proven international outfit when their opponents know if they get more than 14 points behind, the Wallabies won't let them back in. The All Blacks are unlikely to allow them anywhere close to that luxury, so it's vital for the home side to show a clarity in thinking that went disappeared for big patches during the games in South Africa.
Leading 31-6 with three minutes left in the first half, the Wallabies received a very kickable penalty opportunity. Instead of pocketing a 28-point lead they opted for a scrum, conceded a penalty themselves and an eyeblink later were walking to the sheds leading 31-13 having invited the enemy back into the contest. Whether you class the decision as wonderfully adventurous, arrogant or stupid, the reality is that it was wrong, and against the All Blacks such inaccurate decision-making will see no coming back.
While Graham Henry and his cohorts will have been rightly impressed by the good aspects of the Wallabies' recent play, they'll have also stored away the not so good. Think Beale under the high ball, and the Bank of England doesn't suddenly come to mind.
Crunching, aggressive and effective defence around the first five-eighths channel will not have scared the All Black backrow - or Ma'a Nonu for that matter - and our work at restarts was pathetic in the first match and not so pathetic in the second.
Robbie Deans made a hash of his use of the bench in Pretoria before atoning in the second, so we're assuming he got a bad day out of his system.
In other words, all the flaws that popped up their ugly heads need to be absent and the new found maturity everyone here in Australia has been raving about since last weekend, will have to be put on show for 80 minutes not 50.
Australia's two key players in ensuring that will be lock Nathan Sharpe and first five Quade Cooper. Sharpe is a pivotal figure in the forwards, but he can drift in and out of matches - a weakness that is contagious.
Cooper is sublimely skilful and has an instinct for where there is space on the field.
What he hasn't quite yet nailed is the understanding of where a game is at. Audacity is wonderful to watch on a rugby field, but it can sometimes be an avenue for showing off, and you don't want to be showing off when the scoreboard still has the capacity to embarrass you.