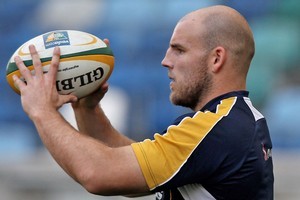 The Wallabies are confident a second straight Tri-Nations Test against South Africa will boost their quest for a hoodoo-busting win in Bloemfontein on Sunday.
Still coming to terms with last weekend's 44-31 capitulation in Pretoria, the Australian side have hit the training paddock in their Durban base believing there were enough positives to be well-placed for a first win at altitude in 47 years.
"You can take a lot of the shapes and the structures you played against that team and what worked and what didn't," centre Adam Ashley-Cooper said.
"(You can) take it into the next week knowing that you've got that week to prepare for it and there's obviously no other team that you play in between."
The mood in the Wallabies' camp has been one of making amends at any cost after firmly believing they were good enough to win a game they led 21-7 early in the first half.
"The team's taken it as a game that's got away from us," prop James Slipper said.
"We were in a very commanding lead and we should have put the game away.
"After we put points on the board we let them back in off our restarts and a few of our set pieces weren't up to scratch towards the end of the game.
"We're very disappointed but there's a lot of positives that came out of that game as well."
Meanwhile, Springboks coach Peter de Villiers has warned his men are hungry for more after scoring a first win in this year's Tri-Nations.
"We have yet to achieve anything," he said.
"The guys need to build on this from a mental and physical point of view.
"This is where a positive attitude towards the match will be very important.
"The Wallabies are world class and we will have to have the right attitude to beat them again, especially on attack".
The Springboks are waiting on news on the availability of three injured players - Butch James, Jannie du Plessis and Flip van der Merwe - who have undergone scans.
- AAP