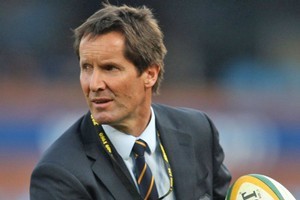 Mark it down as the time in history when Australian rugby's love affair with Robbie Deans finally died.
The fall-out from the latest defeat of Deans' Wallabies in this season's Tri-Nations, began to get serious yesterday. Media men dipped pens into their pots of acid and began furiously to scrawl their invective.
But none matched the words of former Australian coach Bob Dwyer, who condemned Deans as "pig-headed, blinkered and bloody minded". All of which represented a decent serve, in anyone's language ...
Dwyer, writing on his website www.bobdwyerrugby.com, savaged the New Zealander who is now under fierce pressure as Wallaby coach. He wrote "Selection plays a vital role in the fortunes of a team. The Springboks have belatedly begun to understand that simple fact but not so the Wallabies.
"Can someone please tell me, in what part of the game is [hooker] Saia Faainga considered superior to Stephen Moore? Moore is a much better scrummager and line-out thrower, surely the two fundamental roles of the hooker. Then Moore is an excellent ball carrier, compared to Faainga's modest talent in this facet of play.
"Moore is vastly more experienced than his younger teammate and surely this is a vital commodity in such a crunch match."
Dwyer went on to spotlight Faainga's performance in Pretoria. He concluded "In the first half, he managed to give away three penalties and had two poor throws. In the second half, his performance deteriorated still further with even his tackling less sure.
"My total was four penalties (conceded), three poor throws, one missed tackle and two turnovers. When you add his inability at the scrum, this was a terrible performance. Yet Moore remained on the bench.
"This is nothing short of bloody-mindedness on the part of Robbie Deans."
Dwyer said that full-back Kurtley Beale was "outstanding" and went on "Even our blinkered selection panel seems finally to understand this - although he was only given his chance because of injuries."
But Deans' poor use of his substitutes on Saturday further angered Dwyer. "Deans frequently leaves us puzzled with his handling of the bench but Saturday's effort reached new heights.
"His pig-headedness and/or lack of selection ability made a significant contribution to this Wallaby loss. This was a game the Wallabies could have won. Yet despite the fact that they did not score a point in the last 30 minutes and were clearly tiring, Deans left four players unused on the bench.
"The Wallabies were dusted at the scrum, dusted at the line-out and ran out of puff. We had at hand the answer to most, if not all, of these problems and we stubbornly refused to use it. How much longer are we Wallabies' supporters going to be forced to tolerate this treatment?
"Even the Jaapies are less pig-headed than us."
And from a technical point of view, Dwyer was equally scathing of Deans' team. "Every single pass - yes EVERY - from the Wallabies is a 'reload and sling', making it absolutely impossible for any player to change or adjust his line onto the pass. This is not good enough."