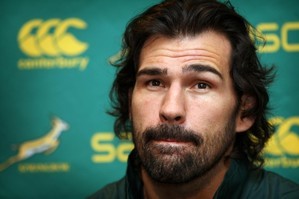 A few years ago, Victor Matfield joined the south of France brigade.
He slipped off to Toulon where he lived in a magnificent seaside villa, played his rugby for the local team and enjoyed the wealthy trappings created by his sporting gifts. It was looming as a pleasant way to wind down his career.
Yet tomorrow, Matfield will lead the Springboks out on to his favourite Loftus Versfeld arena in Pretoria, the third player to reach 100 tests for his country and hoping to be the first to celebrate the milestone with a victory.
A week ago, captain John Smit was a central figure as his side fell in a whirlpool finish to the All Blacks while the first man to achieve the feat, fullback Percy Montgomery, also tasted defeat in his special test.
Earlier this year, Matfield was denied the chance to raise the Super 14 trophy at Loftus because the arena was being prepared for the Soccer World Cup. Tomorrow he gets the chance to make his landmark test even more memorable as the Boks search for the antidote to four straight defeats.
Matfield is 33 now and his powers may be dwindling but he is still a remarkable forward.
He is the best lineout forward of the modern era, a man revered by rivals and teammates, a strategist who spends days poring through details, television footage and ideas about his kingdom. He could be the target, he could be the dummy leaper or a lifter. Matfield makes the calls on instinct and what he sees in front of him.
His great Bulls buddy, injured halfback Fourie du Preez, reckons the Boks still need Matfield at next year's World Cup. He understood the "soul" of the game and studied his roles relentlessly. He was a team player, a special player, unselfish and a great listener.
Matfield is 2m tall and about 110kg with a couple of weights down his armguard. His calf muscles look far too lean to propel him skywards or to drive him into tackles.
He does fringe a bit, as he can with some of the muscular men around him in the Bulls and Boks, but he has great handling skills needed in the modern game and reads matches well.
His computer mind stores lineout plays which he tweaks and refines, sometimes to include him as the focal point but just as often as the fake target.
For so long he taunted New Zealand sides, tomorrow we should acclaim him - but just for 80 minutes.