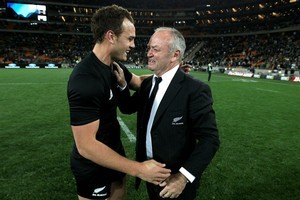 New Zealand's dramatic 29-22 victory over South Africa in this morning's test in Soweto, thanks to a last movement try by Hawke's Bay's Israel Dagg, was the perfect result for the visiting team.
Perfect because the win wrapped up the Tri-Nations, celebrated Richie McCaw's record-equalling 51st test as captain and reversed last season's 3-0 drubbing by the Springboks.
Perfect because it was achieved against a fired-up Boks side stung by continual criticism of their Tri-Nations form, and hellbent on honouring Springbok captain John Smit's 100th test in front of a crowd of nearly 95,000 at a new test venue.
And perfect because of its imperfection. The All Blacks were given a sharp reminder, without paying the ultimate price, of the fragility of being the world leader in a sport where, at the highest level, the devil is in the detail.
That they did not always look after those details saw them staring at defeat until they scored two tries in the final three minutes to extend their winning streak to 14 tests.
Much common sense was spoken by both camps immediately after the final whistle had sounded on what was a magnificent test match - a credit to the attitude of both sides, the Springboks sole try even coming from a quickly taken penalty.
Amongst many insightful comments was Conrad Smith's that the All Blacks had played enough rugby to win two test matches. They had, but poor kickoff reception - at least three were shelled - too much ball-in-hand rugby deep in their own territory against an impressive home defence, handling errors at crucial times, insecurity under the high ball, and an off-night for Daniel Carter's normally reliable left boot had them in deep trouble.
Even when the All Blacks trailed 22-17 with just minutes remaining, and the first sentences were being written on match reports, they would not have been too scathing.
The All Blacks had gone close several times during a riveting second half. Inventive winger Cory Jane, who had started the move which led to Tony Woodcock's important first half try, missed out twice by centimetres in the right hand corner, and Carter was pulled down just a metre or two short on the opposite side of the field.
When McCaw ultimately tied the match up, a forward pass by Dagg who had taken a quick tap to start the movement went undetected and a tight TMO decision ruled the ball went down before the great No. 7's foot was in touch. A draw appeared to be a reasonable outcome when Carter missed the sideline conversion.
Rugby, however, is a cruel mistress, and it is the Boks year for the slap in the face.
That they regained their own kick-off and looked to be seeking field position for a dropped goal only made the turnover through an aggressive All Black counter ruck more galling. Up stepped Ma'a Nonu - who would have been close to man-of-the-match for his passing skill and workrate on both attack and defence - to run over a devastated Smit and set up the excitable Dagg.
So to the All Blacks go the spoils in 2010, and deservedly so given the wonderful rugby they have played.
But the presence of match-winning halfback Fourie du Preez on the Boks bench would not have been lost on their leadership.
Currently injured, he is one of many of last year's Tri-Nations winning Boks team absent for this campaign, or parts of it.
From last night's squad absentees for a range of reasons included Zane Kirchner, Francois Steyn, Odwa Ndungane, Jaque Fourie, Heinrich Brussow, Bakkies Botha, "Beast" Mtawarira, Bismarck du Plessis, Ryan Kankowski, Adrian Jacobs, Ruan Pienaar and Andries Bekker.
The All Blacks on the other hand have had a settled run, and developed an exciting bench. Piri Weepu, Sam Whitelock, Dagg and Victor Vito all made telling contributions.
In his debut season, Dagg's 20 minutes were a delight. A good early catch and strong run, the quick tap to start McCaw's try and his own try added to by a clever piece of in-goal thinking, when he turned a long Morne Steyn kick into a big territory gain by placing his foot in touch before touching the ball.
What a game. What a perfectly imperfect game.
Hawke's Bay Today Chief Reporter Grant Harding produced Sky Sport's Re:Union between 2000 and 2006, and is a former editor of both Rugby News and NZ Rugby World magazines.
For more articles from this region, go to Hawkes Bay Today