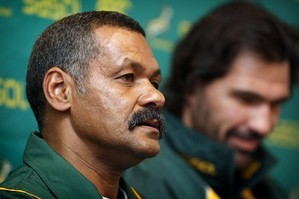 The Springboks have had three weeks to digest what went wrong on their Tri-Nations tour, and have copped a non-stop fusillade of criticism (much centred on dinosaur tactics).
So when they trained on Monday in Johannesburg, eyebrows were raised when much of the session was about tactical kicking.
The line from the South Africans is there is nothing wrong with their strategy - the execution has been poor. What they did well last year they are now doing badly, while what the All Blacks did badly last year they are now doing well.
It is intriguing: the kick-and-chase versus ball-in-hand as the Springboks try to prove their game plan is not an anachronism and that they should not impulsively follow the All Blacks into a brave new world.
Compounding the Boks' problems has been the removal of the two key proponents of their kicking game, the excellent halfback Fourie du Preez (injury) and fullback Francois Steyn (moved to France), while injury has also denied them their brilliant ball-stealing flanker, Heinrich Brussow.
The loss of those players aside, a year out from a World Cup, it is a big ask to reinvent your playing style. And while the Boks maintain their suit must be cut according to their cloth, the evolving application of the laws has put a spin on matters and there is an argument that the Boks are burying their heads in the sand.
Another analogy is that it is difficult to teach old dogs new tricks.
The core of the Springbok team is around 30.
They have won a World Cup and two Tri-Nations titles and beaten the Lions, and now, in the twilight of their careers they are supposed to change the way they play?
It is not going to happen. For one thing, switching to the relentless pace of the ball-in-hand game will do some of the elder statesmen out of their jobs.
So it is no wonder that the Boks are sticking to their guns, with John Smit and Victor Matfield demanding that their charges improve by "10 to 15 per cent" in every facet of the game.
A good South African win will validate the claim that the game plan is sound, but another muddled performance, followed by unconvincing displays over the next fortnight when the Wallabies are in town, will surely precipitate major changes to the coaching staff and even the player leadership group.
The Boks are at a watershed.
If they play well over the next three weeks, the status quo in their camp will continue through to the World Cup. The alternative is a freshening up of troops and tactics.
* Mike Greenaway is a rugby writer for the Natal Mercury