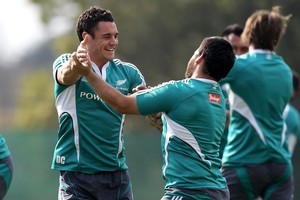 Whenever Tana Umaga played for the All Blacks at Ellis Park he felt more on edge.
It didn't matter that he was an experienced test player, Umaga never felt comfortable. Some of that apprehension came with the atmosphere, some with the tales of the ground.
"I'd been told all the history of All Black matches there, the old stories and how Ellis Park was the home of South African rugby at the height of the apartheid days," Umaga recalled.
"There was also the 1995 World Cup final and Louis Luyt and all those issues which made me think about it a bit more. The crowds just bayed for your blood there and at Loftus.
"It played with your mind, it was in the heart of Afrikanerdom."
Umaga played three tests for the All Blacks at the venue with a capacity of 62,567, winning in 1997 but losing in 2000 and 2004 in his last international outing there as All Black captain under new coach Graham Henry.
Seven players from that duel return for combat tomorrow but on the other side of the sprawling city in Soweto. Mils Muliaina, Joe Rokocoko and Keven Mealamu face up to Springbok skipper John Smit in his 100th test, Victor Matfield, Schalk Burger and Jean de Villiers.
That ground change will help the visitors in their push to maintain a 13-test unbeaten streak, according to Umaga.
There were all sorts of other factors involved in the test preparation. If sides only had a week to acclimatise at altitude it was not a great deal of time to overcome travel fatigue and jetlag. But there were all sorts of theories about playing on the highveldt.
"The All Blacks' fitness should stack up, I'm sure they'll do everything right there and their history of playing well this season breeds confidence," Umaga said.
"This will be all about their power of mind and how well they have recovered."
The Springboks had a month to stew about their Tri-Nations defeats in New Zealand and Australia and to prepare their response. It was a lot of time and there was a danger they could be over-wrought.
Moving to the National Stadium in Soweto (capacity 94,000), the "Calabash" as it was known because of its shape, would ease some of the intimidation for the All Blacks.
"It is a new ground and the All Blacks should be very excited about playing there," Umaga said.
In coach Henry's era, the All Blacks have won 10 of their 17 tests against South Africa with five of their losses in the Republic. They lost twice last year in Bloemfontein and Durban and again in Hamilton when they returned home.
This season they have won twice at home with this test in Soweto, a big hurdle in their tilt at chasing the record 17-test unbeaten streak they share with the Springboks for leading nations.
Every time the All Blacks take the field they carry the nation's expectations.
It is a natural consequence of their excellence which has pushed the side's success rate under Henry to a staggering 85.71 per cent in the seven years he has been in charge.
Throughout their history the All Blacks have an almost 75 per cent winning rate and in the professional era that has climbed to a shade over 81 per cent. They are staggering statistics.
No other famous global sports sides such as the Brazilian football team, the Australian cricketers or the Canadian ice-hockey mob can compare, nor any of the American pro sports teams.
Winning tomorrow was "bloody important", said Henry, it would be another step in their recovery from last season's losses to the Boks. This Soweto test would be an ideal exam for the All Blacks.
They had played strongly this season in the Tri-Nations and now faced a different type of challenge. The Boks would be smarting, their coaches and players had been ridiculed and they would be out for revenge as the All Blacks were this season at Eden Park.
The hurdles would be many - the altitude, the dry weather and 20-plus temperatures, the Springbok aggression and their experience of highveldt tactics.
"It is a major challenge," said Henry, and should be great. It is what this team needs.
"We play 14 tests this year, double what they did 20 years ago and there are no 'soft' tests at all.
"That is something for the punters to ponder."