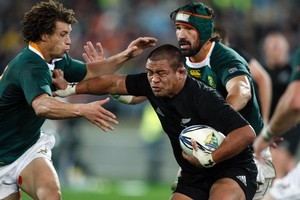 For the Springboks and their supporters, most of tomorrow will be about dialling up some revenge to celebrate John Smit's 100th test in the famous green jersey. It will be a superb personal milestone for Smit, one of rugby's finest ambassadors.
Opposing him in the All Black front row will be another great gentleman, Keven Mealamu. Using those terms to describe front-rowers sounds incongruous - but these two fit that bill.
It is also appropriate that the greatest hooker to wear the black No 2 jersey, Sean Fitzpatrick, will be at the National Stadium in Soweto to watch the Mealamu/Smit duel.
Mealamu has to be one of the more remarkable All Blacks stories. He was an age-group national representative but as a flanker and has only played hooker for about a dozen years. Mealamu was picked then discarded by the Blues and made his 2002 All Blacks debut after playing for the Chiefs. He was barely 1.80m and did not tip the scales over three figures.
Now, Mealamu has passed a century of matches for the Blues and in the injury absence of his regular rival, Andrew Hore, plays his 79th test tomorrow. Contrast that career with Corey Flynn, his deputy on tour in South Africa. He made his test debut a year after Mealamu but has played only 11 internationals because of broken arms, other injuries and form issues.
Mealamu and Hore made their All Blacks starts on the same tour to Europe in late 2002, when coach John Mitchell decided to leave 21 players at home to rest for the next World Cup.
That was the impetus for Mealamu, who carried on while Hore had to be more patient. However they have been duelling extra hard since 2008 when Hore got the starting gig and since then, both have been sidelined with serious injuries.
Through those tussles, Mealamu has seen off other challenges from Anton Oliver, Derren Witcombe, Tom Willis, Aled de Malmanche and Hika Elliot.
Mealamu has a great power to weight ratio, is superbly conditioned and is a great ball-carrier with his low centre of gravity, sidestep and speed.
But it still seems remarkable that he has continued to prosper in the battle of the behemoths and, as a committed Christian, in areas where the dark arts of rugby remain.
There was only one flashpoint that springs to mind, at the Cake Tin in 2004 when he and Brendon Cannon punched each other.
They were both binned but after a lecture from referee Alain Rolland, chatted amiably as they were guided towards their naughty chairs.
Whatever the result tomorrow, you can bet Mealamu will seek out Smit to offer his congratulations and wish him well.
Both these fine men know that life is to be treasured far more than the result of an international rugby match.