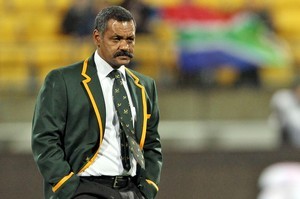 It seems a rare year when there has not been a bleat from South Africa about the rugby alliance with New Zealand and Australia. The threats have come; "never again, this is not working" etc etc. But the tripartite group kissed and made up with another five-year extension to the end of 2015.
However, before next year's start to the new competition, reports have been leaking out of the republic that South Africa will bail out when that new deal expires.
Saru chairman Dr Jan Marais confirmed they want to look elsewhere. That information comes after Saru president Oregan Hoskins labelled a Sanzar judicial hearing into the conduct of Springbok coach Peter de Villiers as a "declaration of war".
Relations did not seem too flash, although Hoskins amended his ire to say the three nations would have some robust discussion as the Tri-Nations series moved to Soweto this weekend. As it did, P Divvy opened up with another flurry of observations, including his contention that the Boks were unlucky throughout Australia and New Zealand.
He was struggling to work out why they lost.
Here's a few ideas, mate. Ordinary game plan, lack of cutting edge mixed in with some stupidity. Round that with the All Blacks delivering a new mix of vibrant attacking rugby that was too much for your blokes.
Then P Divvy shuffled in another of his wildcards. New Zealand and Australia did not have good referees, rugby was ruled differently in each hemisphere and the Springboks still had to get used to officials from the Northern Hemisphere.
A check reveals New Zealand and South Africa have three referees each on the top panel while Australia have only Stu Dickinson. P Divvy might also like to know that Nigel Owens, Wayne Barnes and Alain Rolland, who referee the Springboks' remaining three tests, were the same officials involved last season when the Springboks were unbeaten.
But the Boks coach can change his mind. Originally he was adamant he would take all his senior men on their end-of-year tour to Europe but at the weekend he said he'd had a change of plan. Next year's Super 15 would be tough on the players so he had decided to give some of his (unspecified) senior men a leave pass from the international trip in November.
You wonder what P Divvy thinks about Saru's idea, as espoused by Marais, that South Africa will bail out of Super rugby. Where will they go? Will they be content to stay with the Currie Cup and tests matches?
Heading north seems unlikely. A Seven Nations series would dilute some of the emotional content in that series, while the Heineken Cup, Guinness Premiership, Magner's League, Top 14, the West Harrogate Workingman's championship or the Brass Monkey's Cup are congested enough already.
Besides, what would P Divvy make of referees in that part of the globe having a regular influence on South African sides? Goodness knows, but anyone who comes out with comments like: "I'm a God-given talent, I'm the best I can ever be. So what you think doesn't bother me. I know what I am and I don't give a damn," has got to be good for the opposition.
Which makes you wonder why New Zealand and Australia complained about him and insisted he face a judicial hearing into his conduct. The All Blacks and Wallabies need P Divvy in charge of the Boks. While he might be only a nominal coach, he will be a burr under their jerseys, a burr in their boots.