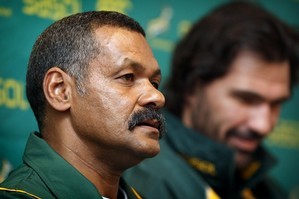 The squeaky helium tones of Peter de Villiers will not be back in town until next year, as long as he makes the World Cup cut.
In the meantime, though, his vocal gems are sure to bounce around the globe as other nations marvel at some of his sayings and wonder about his coaching connection to the Springboks.
Let's hope he stays in charge to the end of next year because without him, the Boks would be a much more dangerous beast.
This week, old P Divvy escaped the wrath of Sanzar when he was cleared of misconduct for comments implying some sort of conspiracy between referees to bolster interest in the 2011 World Cup. A South African judicial official ruled that he had not breached the code of conduct.
Phew! Unseating P Divvy is the last thing the All Blacks or Wallabies need so you wonder what they were doing complaining in the first place? Last year, the Bok supremo reckoned the way his side was travelling, they would be fine without a coach in a few seasons.
The All Blacks and Wallabies need to do all they can to encourage him to stay, instead of demanding he appear before the Sanzar judiciary.
How did it get to a complaints' hearing anyway when Sanzar was supposed to be a unified bunch?
No wonder it promoted comments from SARU president Oregan Hoskins that the charge was "a declaration of war by Australia and New Zealand".
Ole P Divvy may have been sailing close to the breeze when, after the twin losses in New Zealand, he told Fox channel in Australia that "we do have a World Cup in New Zealand next year and maybe it was the right thing for them to win the games so they can attract more people to the games next year".
But give me a coach who says something no matter how inflammatory, has an opinion, offers a viewpoint, has a theory. Too many opt out because they do not want to criticise their own players, the referee, or opposition, or risk a fine for bringing the game into disrepute.
In his own way, P Divvy made some points about the number of Springboks copping the refs' wrath during the Tri-Nations.
He watched Bakkies Botha, Danie Rossouw, Jacque Fourie and BJ Botha collect yellow cards, Bakkies Botha, Jean de Villiers and Fourie receive bans, while the Wallabies received three yellows involving an unjustified send off for Drew Mitchell and a ban for Quade Cooper.
Meanwhile, Owen Franks was the solitary All Black with a yellow card.
P Divvy's observations seemed to have more validity when you watched the censures of Bakkies Botha and Rossouw for soft offences, views that were counter-balanced by the lack of action against Tony Woodcock by South African ref Jonathan Kaplan then citing officer Freek Burger.
But P Divvy can go off the rails a bit.
His defence of Schalk Burger for eye-gouging in last year's series with the Lions was preposterous and moved the visitors' assistant coach Shaun Edwards, to label de Villiers a "clown".
Did we see any judicial action for that comment? Negative.
Then we moved to the "clown" trilogy this season with the World Cup reference from de Villiers, Fox broadcaster Brendan Cannon's response, then de Villiers referring to himself again as a clown in explaining the situation.
Wrapped around those utterances was the Sanzar harrumphing - footstomping grandstanding from a disparate group.