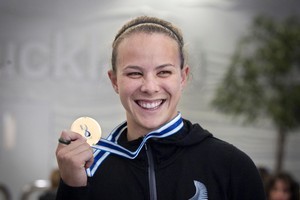 After months of bitter in-fighting between Canoe Racing's coaches and administration, it took an unheralded 22-year-old just 40 seconds to improve the sport's outlook.
Lisa Carrington's victory in the K1 200m race at the canoe sprint world championships in Szeged, Hungary in August gave the beleaguered sport some much-needed positive press.
But more importantly for Carrington, the blistering performance booked her place at next year's Olympics and elevated her to medal contender status.
If Carrington's win came as a surprise to some, it didn't for those who have followed her development closely.
The youngster, who pairs up with Erin Taylor in the K2 events, finished second at a grand prix round in Sydney in January and in May won gold at a World Cup round in Duisberg, Germany. Despite a couple of promising performances, she still went in to the world championships without a world ranking in the sprint event.
But after picking up good wins in the heats and semifinals, it was clear Carrington was going to be a challenger in the final.
The youngster rose to the occasion, easily dispatching Poland's Marta Walczykiewicz, the 2009 world championship silver medallist, and Ukraine's Inna Osypenko-Radonsk, the 2010 silver medallist in the final.
The Kiwi's time of 39.998s was nearly half a second quicker than second-placed Walczykiewicz, to become the first New Zealand woman to claim a kayaking world championship medal.
The last time the New Zealand anthem rang out at a world championships medal presentation was in 2003 when Ben Fouhy won a K1 1000m title.
Perhaps the most impressive thing about Carrington's golden performance is it was achieved while the sport in New Zealand is in turmoil.
The fall-out from the axing of kayaking greats Ian Ferguson and Paul MacDonald from the coaching programme continued into this year - and in the middle were the athletes; hardly conducive to making strides internationally. But throughout the public stoush Carrington remained focused on what she wanted to achieve.