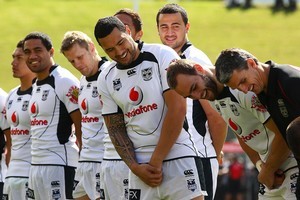 "He's over there, sitting on a mat," was coach Ivan Cleary's dead-panned response when quizzed on the whereabouts of Krisnan Inu at a mid-season Warriors training session.
Cleary knew full well the query related to Inu's absence from the team sheet for yet another week. His answer was hardly his first deflection of an inquiry into the fate of a player who had been the Warriors' leading try scorer and best kick-defuser before his banishment.
Inu may well have been sitting on the mat, but there was no doubt he was still in Coventry as far as his coach was concerned.
Sport usually finds a way of sorting these things out, and so it was that when a football tumbled out of the Sydney night sky with two minutes remaining in a sudden death finals match against the Tigers, Inu was the Warrior waiting under it. The scramble for the ball - as it so often does - went Inu's way, with the enigmatic back slithering to the line to score a try perhaps no other player in the NRL could have.
Just as the way we view Graham Henry is inextricably linked to Stephen Donald's penalty kick against France, Cleary's legacy as Warriors coach swung on that moment of genius from a player he had rejected.
Had Inu not scored, the Warriors' season was over. With his team having been pounded in Brisbane a week earlier, Cleary would have exited with successive finals defeats and a serious question mark over his ability to get teams up for big games.
The Warriors made the finals in four of Cleary's six seasons at the helm, but until 2011 never threatened to do much when there.
Had that not changed, Cleary would have gone down as a good coach and utterly impenetrable personality who transformed the Warriors into a stable and moderately successful club.
Instead, he departed having taken the club to the brink of glory, with the foundations for future success seemingly firmly in place.
Looking at it dispassionately, placing sixth in the regular season represented a good but not great effort. Winning two of four finals games is also a moderate performance on paper. But those October classics weren't played on paper, they were played on the grass in Brisbane, Sydney, Melbourne and then Sydney again.
The Road Warriors chalked up more air miles than any team in finals history.
Rebounding from the Broncos battering was a colossal achievement. Going on to Melbourne to knock off the minor premiers was improbable. Beating Manly in the grand final, well, that proved impossible.
They may have come up just short, but the Warriors took the country on a wild ride, even managing to divert the spotlight from the Rugby World Cup for a spell. That in itself was some achievement. Alongside 2002, 2011 goes into the books as the best season in the club's history.