Veteran vows never to sell his talents to the highest bidder, including Springboks.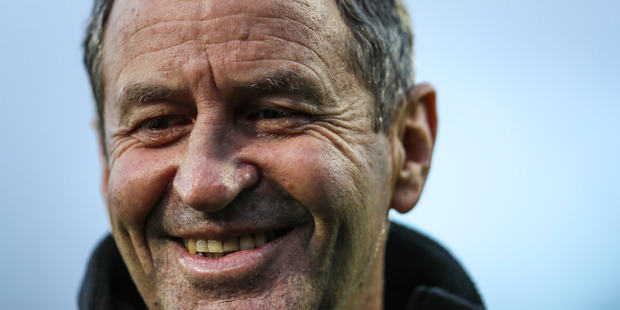 Wayne Smith has sworn never to help any of New Zealand's traditional rugby rivals challenge his beloved team.
The 60-year-old veteran, who on Friday announced he will step down as Steve Hansen's right-hand man after the Rugby Championship in October, also gave a public endorsement for fellow assistant Ian Foster to eventually succeed Hansen as head coach.
Smith's association with the All Blacks started as a player in 1980, briefly continued as head coach in 2000 and included two stints as an assistant to Hansen and predecessor Graham Henry.
Speaking to Newstalk ZB's Tony Veitch yesterday, Smith admitted he had already turned down approaches to become a consultant with the struggling South African Super Rugby side the Bulls and insisted his loyalty to the black jersey would not allow him to sell his talents to the highest bidder.
"I owe [New Zealand Rugby CEO] Steve Tew a lot. He was ... really the first man to put faith in me to lead the Crusaders [from 1997], and allowed me to take [mental skills coach] Gilbert Enoka as a paid employee, so he and I go back a long way.
"Whatever I do in the future, I'll always pass by him. So you can guarantee that there will be no white jersey, green jersey, gold jersey, Springbok jersey ... none of those jerseys will ever be involved in my life," Smith said.
"But I love sharing stuff and I love being involved, so I'll do some little things over the next couple of years. I might do a week for a club team in Japan or something like that. Those sorts of things will keep me involved enough."
When asked if he would like to see Foster as the next All Black coach, Smith responded: "Yes ... can I do that?
"I've been really, really impressed with Ian Foster. He's a hard worker, he's got a good analytical brain, a good personality, great connections with the players and he's improving immensely," Smith said.
"He would stack up with any coach in the world."
While the state of rugby in Australia and South Africa has become a major cause for concern, Smith warned the New Zealand game may also hit that slippery slope, if it continues to lose players and coaches - including Joe Schmidt, Vern Cotter, Dave Rennie and Tony Brown - to the Northern Hemisphere.
"We don't want to be complacent enough to say we're sorry about South Africa and Australia, they're not going too good. We've got to keep an eye on ourselves as well and make sure we don't lose another generation of coaches."
New Zealand-born coaches abroad should return home and contribute to the national programme, before being considered for the All Blacks' top job, Smith said.
"I think we have to look at who we've got, and Ian is one who has really taken steps forward and is hugely capable."
Foster has been an All Blacks assistant since 2012, having previously guided the Chiefs between 2004 and 2011. Critics question his patchy Super Rugby record (52 wins, five draws, 46 losses), but Smith was quick to point to the fact that Foster guided the team to a semifinal and final during his tenure.
"I think that's a non-thinking throw-away line that doesn't make sense to me," Smith said. "That takes away the attitude that everyone can learn and everyone can improve."
Since Graham Henry's appointment as coach in 2004, continuity has been a key to success, with Hansen and Smith as assistants, then Hansen taking the reins, with Foster and Smith assisting.
Foster presents a logical line of succession, according to Smith.
"It allows you to keep systems that are working, because you've got that continuity, and bring in other people and giving them an opportunity to develop the great All Blacks tradition further. I think that's the way to go, personally."