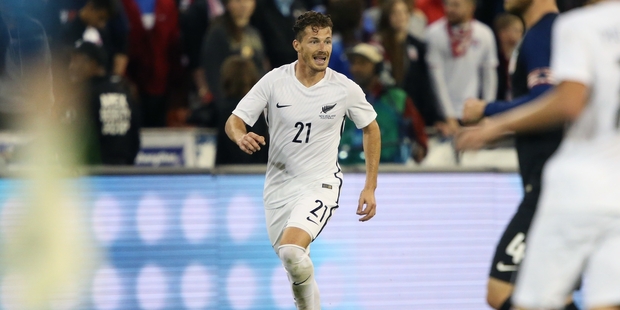 Liam Graham could be on the brink of a remarkable return to the international stage.
A little over six months after rupturing his anterior cruciate ligament (ACL), Graham will be part of this week's national camp in Auckland ahead of the Confederations Cup.
The 24-year-old still has some significant obstacles to clear. He will need to prove his fitness and mental fortitude to All Whites coach Anthony Hudson but just being back in contention is an achievement. Especially as this is the second knee reconstruction of his career, after he tore his other ACL four years ago.
His swift recovery has been aided by an unconventional rehabilitation programme, which has included a dramatic change in his diet and an intensive stint in Dubai.
"The last year has been extremely mentally tough ... pushing me to the limit, to be honest," Graham told the Herald on Sunday. "But I've come a long way and hope I can go further."
Graham's injury came after his career was just starting to take off. He made his debut for Chesterfield last September, and days later received an email from New Zealand Football with a ticket attached for the United States tour. He performed well, playing the full match against Mexico, then the first half of the 1-1 draw with the US.
He was starting to establish himself for the Spireites when he returned to the New Zealand fold for the World Cup qualification matches against New Caledonia last November. He left the field during the first leg, feeling pain after jumping for a header, but the initial diagnosis was mixed.
"The physios told me 'you might have done your ACL but we can't confirm it because we have nothing to compare it against'," said Graham. "Because my other knee was still quite loose."
However, a scan in England confirmed his worst fears.
"I had the MRI and I remember looking at the first line - ACL ruptured, full stop. I was like ... what!"
It was a massive setback for Graham, who had taken a circuitous route to the All Whites. After a few years in Italian youth football, he signed for Chesterfield. But after a few months of reserve team football, Graham chose to take a loan option to Whitehawk FC (the sixth tier of English football) for more game time.
"The level wasn't that great but we played 15 games in five or six weeks," said Graham. "It proved to everyone I was willing to do anything to play."
Graham has shown the same determination in tackling his comeback. He has undertaken a punishing rehabilitation regime, which included relocating to Dubai for two months.
"I had done my previous reconstruction there and wanted to get out of England, clear my head and get in the right mental space to give myself a chance to make the Confederations Cup squad," he said.
Graham worked with specialist osteopaths and physiotherapists in the Gulf state, and also made changes to his lifestyle. He has switched to a predominantly vegetarian diet and also practises fasting and meditation, to assist the healing process.
"I'm eating 90 per cent vegetables and only eat meat once a week," said Graham. "I was 81kg and now I'm down to 76. I feel lighter and a lot sharper."
Assuming Hudson will opt for two right wing backs, Graham faces competition from Storm Roux, Kip Colvey, Dane Ingham and Louis Fenton.
"It would be massive if I could make it," said Graham. "I can't really put it into words; the chance to be at a big international tournament where we could do some pretty special stuff.
"Being back in the team would prove that I can do almost anything. But if I don't make it, I've got to suck it up and put my mind on the rest of the year."