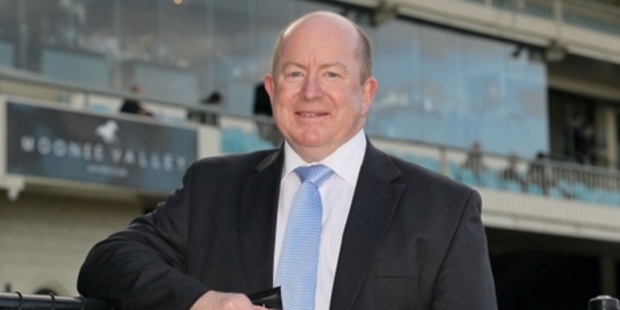 Victorian Bernard Saundry was yesterday appointed as the new chief executive of New Zealand Thoroughbred Racing.
We've seen these international executives arrive here for top racing positions and generally, though not exclusively, the results have been less than desirable.
Horse racing is strongly bound in its traditions and New Zealand has been near the top of that list. Britain, still excluding geldings from its Derby and with its in-built class system, heads the list.
Gradually the wheels of change are turning in New Zealand and the Auckland Racing Club is leading the charge, following a path Australia showed the way to more than a decade ago.
Saundry was at the forefront of that Australian game changer as chief executive of Racing Victoria.
Very recently New South Wales grabbed the baton in the race for Australian supremacy with increased stakemoney and The Championships, but it's fair to say the industry infrastructure in Victoria almost has a better solidity and shine to it.
"At Racing Victoria we always wanted to be at the leadership of developing racing culture," says Saundry.
He was chiefly responsible for the introduction of Racing.com, a remarkably valuable website, which has replays of all important Victorian races, post-race interviews, track work interviews and much more.
"It's a terrific platform and was introduced to deliver racing content to fans any time, any place - which leads to a wider audience to improve commercial returns for participants via improved wagering outcomes.
"And I'm proud of the work we have accomplished around infrastructure, collaboration with clubs and participants, and of course, integrity.
"Racing needs a sustainable income to fund future investment in prizemoney, infrastructure, horse and participant welfare and activities to keep racing fans and participants engaged in the sport."
Saundry oozes enthusiasm. Most will eagerly await his mission statement a month or two after he gets his feet under the desk.
Who better to guide, among other initiatives, the critically important race fields legislation before Parliament after he was at the coalface when that change recently took place in Australia.
Why New Zealand?
"Well, I believe the chief executive in any field has a finite life. I'd been with Racing Victoria for 14 years and many changes were made. Any such position needs to be refreshed and this position is perfect to move on to.
"New Zealand racing has a fantastic reputation and if I can work with its participants to create change and move forward, that will be fabulous."
Talk to Saundry and it's clear he's a game changer.
When he joined Racing Victoria is was A$38 million ($40.9m) in debt. He left it with a surplus of about A$75m.
Dr Alan Jackson, chairman of NZTR, said: "Bernard's vast knowledge and experience from the creation of Racing.com and negotiating media rights, will be advantageous to New Zealand racing.
"His proven career in racing administration, club funding, building relationships with the jockey association and trainers and his experience with country racing will be invaluable.
"Thoroughbred racing requires strong leadership. Mr Saundry has the energy, experience and enthusiasm to make a material difference to New Zealand racing.
"He's well placed to build innovation and promote New Zealand racing to international markets."