Willie Apiata and James Maaka are two deeply respected figures within the NZ Defence Force for very different reasons and they were honoured in very different ways, when the World Masters Games 2017 rugby competition began on Saturday.
Apiata's fame precedes him - the first recipient of the Victoria Cross for New Zealand, for bravery under fire during the war in Afghanistan. He has left full-time service, but remains with the SAS Reserves.
Maaka, unfortunately, hit the headlines last week, when he died in a paragliding crash in Christchurch. He had served with distinction in Timor and the Solomon Islands, and was most recently a firefighter, based at Burnham.
When the NZDF team faced Apiata and his Team Barfoot & Thompson side at Pakuranga Rugby Club, the match began with a moment's silence, with Defence Force assistant manager Richard Hokianga hugging a photo of his fallen comrade.
"He came from a very, very strong military family, like myself," said Hokianga afterwards. "We decided to show him the honour and pass on our acknowledgement to his family.
"Everywhere we go and anywhere we go, we look after our fallen soliders and their families as best we can."
Maaka's passing and imminent funeral, and Apiata's presence, with Anzac Day falling this week meant ... those emotions all collided before kick-off.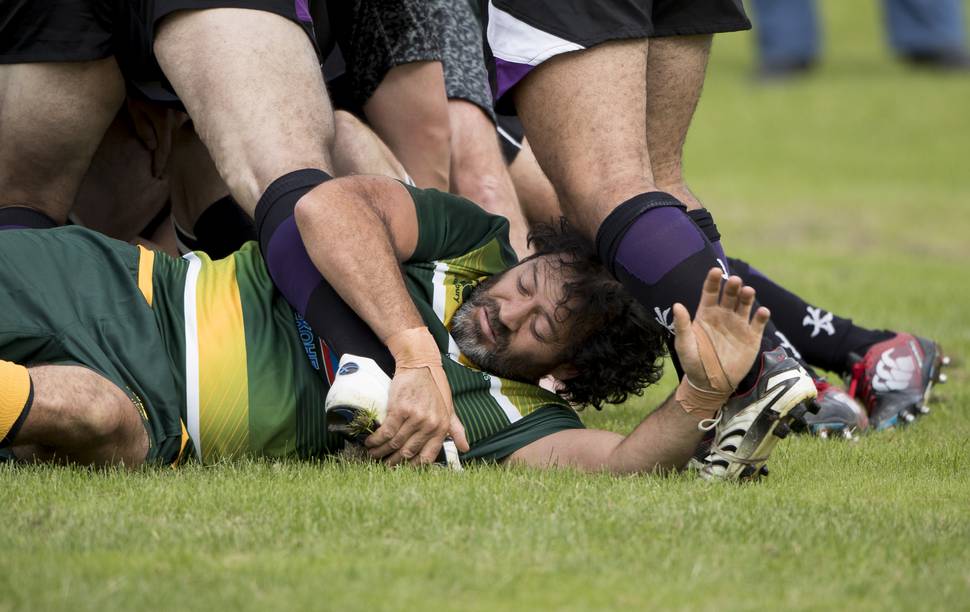 But once the whistle blew, the defence players' respect for Apiata manifested itself in a far more physical way, as they proceeded to overrun their opponents 27-5, undoubtedly drawing on the occasion.
Just as he did in military uniform, Apiata, 44, cut an impressive figure, playing off the back of the scrum for team made up of Presidents-grade players from several South Auckland clubs.
"Jokingly, the boys wanted to go out there and hurt him just a little bit," chuckled Hokianga. "There was a bit of friendly banter going around, but we all understand the significance of what he's done and who he is.
"It was good to see the old fella out there and having a go. It was a bit unfortunate I was a bit too young to join in with him, but it's an honour to be part of this event and participate alongside fellas like that."
Afterwards, Apiata, who politely declined to be interviewed by Herald On Sunday, showed his heart was still with his former colleagues, hugging them warmly and laying a hand on Maaka's photo in a touching tribute.
"Whether you're out or still in the 'Green Machine', or whatever uniform you wear, it still holds special meaning to everyone, past and present," said Hokianga.
On Sunday, Team Barfoot & Thompson take on Moorabbin Rams from Australia, while NZDF are up against a stacked Ponsonby Eps, who overwhelmed the Rams 72-0 in their tournament opener.
The Masters Games rugby scheduled winds up next Sunday with finals at Pakuranga RC.
Also in action yesterday was the TBags netball team, playing in the honour of former Silver Fern Tania Dalton.
Dalton died last month aged just 45, several days after suffering an aneurysm while playing touch rugby.
Before her death she had planned to compete in the World Masters Games with a group of friends, including several other ex-internationals. The team has renamed itself to Dalton's nickname in her honour.