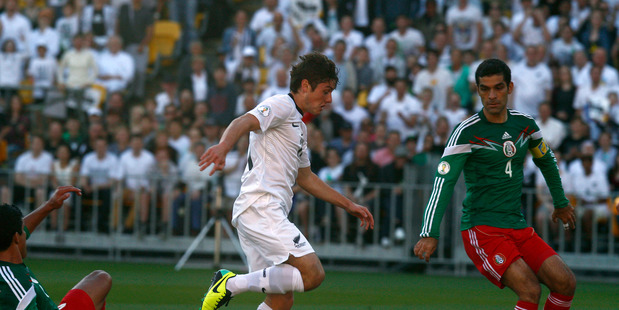 Marco Rojas is no longer a wide-eyed international football novice.
The precociously talented Melbourne Victory winger has now appeared 30 times for his country and is a vastly different young man than the teenager who debuted for the All Whites against Jamaica five years ago.
Since then, he's experienced the cut-throat world of life on the fringes of one of the top sides in the German Bundesliga, a loan spell in Switzerland and most recently a return to the A-League where his feats for Victory this season have many pundits talking about him as a genuine contender for a second Johnny Warren Medal as player of the season.
In his early days, a media session was probably the last thing a shy, reserved Rojas wanted to endure, but ahead of New Zealand's upcoming World Cup qualifiers against Fiji, he faces down the cameras and microphones with the confidence of a seasoned professional.
He's also clearly bought into coach Anthony Hudson's recent call for the national side to jettison their underdog tag and start to beat their chests as a genuine football side.
"We know we're a good team. We know we're good enough to win these games," said Rojas. "We don't want to go these future tournaments and just be there. We want to make some noise. We want to push ourselves in every camp and on every tour."
"Obviously we're not underdogs in Oceania so it's more about after that but we need to start getting the mentality that when we go to play a football game, we're on the same level and on the same pitch so we can't think of ourselves as a lesser team," he said.
In the past, New Zealand sides have on occasion found it harder than expected to subdue their Pacific Island neighbours. Rojas was part of the side that famously lost in the semifinals of the OFC Nations Cup in Honiara in 2012.
"We no longer [want to] go into these games and come out bruised after a really tight game. We want to make sure we go in and dominate from start to finish and really stamp our authority on Oceania," he said.
"[It's about] zoning in on the mental aspect and the fact that we're the biggest team in Oceania and we should be playing the sort of football against the other teams that shows that status.
"We'll be trying to do that on this trip and in the next qualifiers and building towards becoming a better football team."
Rojas also hopes that mentality will become evident when New Zealand face bigger footballing super-powers than Fiji.