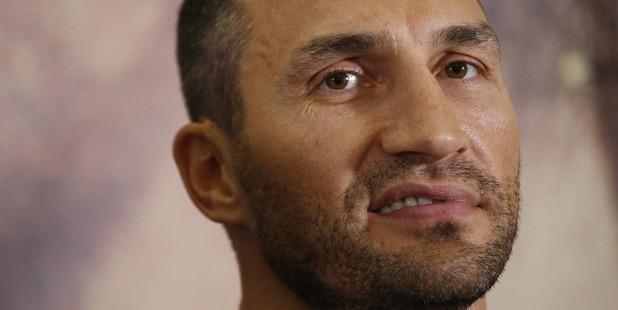 Former heavyweight champion Wladimir Klitschko has been contacted by Joseph Parker's promoters as they continue to scout for opponents in the wake of the Tyson Fury fall-out.
Duco Events are in negotiations with Anthony Joshua's camp about fighting in Manchester on November 26, but have widened the net to include a possible world title fight against Andy Ruiz Junior in Auckland this summer, and promoter Dean Lonergan said today that an encouraging contact had been made with Klitschko too.
Klitschko lost his three world title belts to Fury in Germany last November and hasn't fought since, but is also in negotiations with Joshua following Fury's withdrawal from their rematch due to depression. Fury is likely to be stripped of his belts, and the heavyweight division is poised to take advantage.

"It's our job to make sure we have options in front of us," Lonergan said on the day the news of a possible fight with Ruiz for the WBO title broke. "If we're going down one path, we might get into into a position we don't necessarily like for whatever reason.
"Now we have two paths, and maybe even three because I've also put an email into Wladimir Klitschko to see if he's interested in fighting us. Let's just wait and see. A fight like that would be held in Germany. Bernd Boente his manager came back and said 'yes, we're interested, what sort of deal structure would you look at?'.
"The only person with any pressure on him is Eddie Hearn because he's got the date set down for November 26, it's hard to get venues and the clock is ticking."
Parker's trainer Kevin Barry is particularly pleased with the possibility of fighting Ruiz Junior, a Mexican-American whom Parker has sparred against three times three years ago.
Barry said Parker struggled in his first session, saying: "All I saw was Joe's eyes widen.
Andy was hitting him from the left side to the right side and Joe thought he was surrounded." But then Parker showed his quick improvement with a dominant performance several weeks later in their final time in the ring together. "It showed how fast Joe had developed and the fighter he was turning into."
The talk of title challenges got short shrift from Parker, who fights the 2.01m Alexander Dimitrenko in Manukau on Saturday.
"He thinks we're looking past him, but the truth is I'm 100 per cent focused on him," Parker said. "The heavyweight division is very exciting, I look forward to the future, but first I have to take care of business on Saturday night."
Asked about the possibility of fighting for the title in Auckland, Parker said: "It would be something special for sure, but again, this giant guy is going to be in front of me on Saturday. I have to take care of him and then we can have a long talk about these possibilities and opportunities."
Boxing alphabet soup