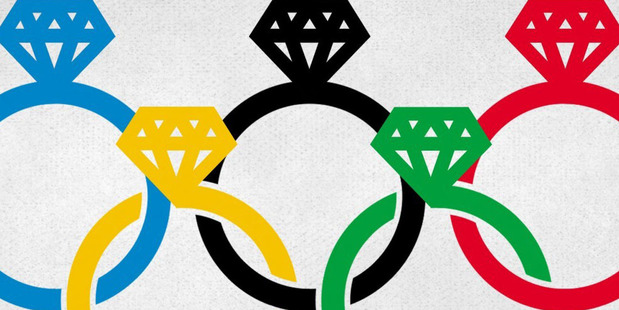 Love is in the air in Rio de Janeiro.
Maybe it's the natural exhilaration of achieving a lifelong goal you've worked toward with the love and support of your significant other. Maybe the sight of those Olympic rings is suggestive. Whatever the reason, it feels like everyone is getting engaged at the Games.
In the latest bended-knee move (degree of difficulty: 0.01), William Claye went from a silver medal-winning performance in the triple jump to proposing to hurdler Queen Harrison, who is not competing in these Games.
AND HERE IT IS!!!! CONGRATS @WilliamClaye & @goQueengo!!!! #Rio2016 #TeamUSA #LoveIsInTheAir #SoAreTripleJumpers pic.twitter.com/CIkmZt9jUQ

— USATF (@usatf) August 16, 2016
For Tom Bosworth, a racewalker from Britain who finished sixth in the 20-kilometer race, the beach provided an unforgettable setting at which to propose to his boyfriend, Harry Dineley. (Harry said yes.)
He said YES!!! pic.twitter.com/roXsw7oq8f

— Tom Bosworth (@TomBosworth) August 15, 2016
On Sunday, He Zi, a diver from China, won a silver medal and then got a diamond from her boyfriend.
#CHN diver Qin Kai proposes to longtime girlfirend He Zi at awarding ceremony after He comes 2nd at springboard pic.twitter.com/dbm2yUb6pC

— Team China (@XHSports) August 14, 2016
Before that, Brazilian rugby player Isadora Cerullo accepted a proposal from her girlfriend, Marjorie Enya.
She said yes! Last night at the #Olympics, Marjorie Enya proposed to Brazilian rugby player Isadora Cerullo #Rio2016 pic.twitter.com/WtmfBhynZV

— HumanRightsCampaign (@HRC) August 9, 2016
Thankfully, Michael Phelps is already engaged. Otherwise, the Internet might just explode.