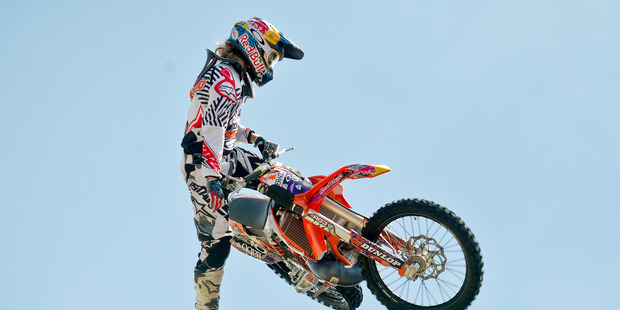 Kiwi Levi Sherwood was happy with his fourth place at the Red Bull X-Fighters world championship in Spain earlier today, believing the result puts him back on track as a leading freestyle motocross contender.
Sherwood was beaten by the eventual winner, Frenchman Tom Pages, in the semi-finals of the Madrid event played out before a passionate crowd of 20,000 at the famed Plaza de Toros bullring.
The 24-year-old Manawatu rider admitted he hadn't expected to run into Pages in the six-man semi-finals and the draw forced a change of tactics.
Pages had only qualified 11th of the elite 12-rider field after crashing during qualifying the night before while Sherwood was the third best contender on the night.
That result and Pages also finishing second in his opening four-rider round meant Sherwood, the 2012 world champion, encountered the crowd favourite earlier in the event than anticipated.
Sherwood was planning to unveil the trick he has been working on, known as the alley-oop, if he made it to the final but never got the chance.
He explained he didn't want to try the difficult move in the semis.
"Halfway through the night, you don't want to take risks like that," he said.
"(But) I was pretty stoked about how I went overall. I rode the best I could even though I didn't do the trick I'd been working on.
"I thought the middle round that I got kicked out in would be slightly different. I thought it would stack up differently and I wouldn't need it in that. I didn't think I would be up against Tom. I was hoping to do the alley-oop in the last round. Tom obviously just out-rode me. That's just the way it goes."
The course was set up perfectly for Pages and he scored a clear win over his rival with all five judges giving him the nod.
Sherwood had earlier won his four-rider preliminary round to advance to the last six.
"I learned a lot here. This year has been a lot more long-term focus than short-term focus. I know where I need to be now."
It was an impressive return to top flight competition by Sherwood whose 2015 season was wrecked by recurring injury problems.
Sherwood is returning to his American base for another event before heading back to New Zealand.
Pages beat reigning world champ Clinton Moore and fellow Australian Adam Sheehan in the final.