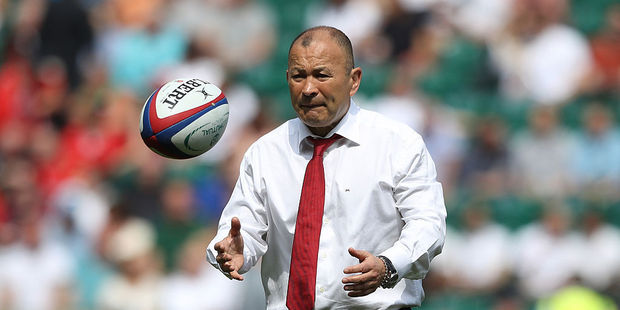 George Ford will do his best to forget England's 27-13 demolition of Wales.
The 23-year-old fly-half had a shocker with the boot on Monday, kicking just one from seven attempts at goal - sacrificing an additional 14 points and exposing a major weakness in the England lineup ahead of the upcoming three-Test series with the Wallabies.
However, new England coach Eddie Jones backed his fly-half's efforts in a damning post-match interview, slamming media for focusing on the "negative".
"I thought he was brilliant, I thought he was really good. I've seen Tiger Woods miss putts, I've seen Michael Jordan miss jump shots. Everyone has a bad day. He had a bad day kicking. I thought the rest of his play was brilliant," Jones said.
"The thing that strikes me about this press conference is that we've just beaten Wales five tries to one and we're talking about a guy who can't kick a few goals. It's quite amazing and it just shows the negative reaction in English rugby.
It's quite sad, I find it quite sad to be honest.
"We've beaten Wales five tries to one. When do you score five tries against Wales? Wales are at literally full strength. We're missing 11 players. And we're talking about a young kid who misses a few kicks. I think we need to get some perspective on where we are going with the game here."
Watch Eddie Jones' interview below:

Eddie Jones did NOT enjoy all the questions about George Ford in the post-match presser! pic.twitter.com/I0AShVBZas

— Matthew Southcombe (@MattSouth7) May 29, 2016
Wallabies fans would no doubt have been slightly concerned by England's form of late, considering their six from six record since Jones took the reigns. But while the Six Nations champions showed that they can score tries from all over the pitch, no international team can rely solely on getting the ball over the white line to score points.
Where in previous years, England has been slammed as a nation that kicks the ball too often for points - one particular World Cup final in 2003 comes to mind - they now have the opposite problem. Where the England No. 10 jersey was once inhabited by the owner of the world's best boot, Jonny Wilkinson, they now have the anti-Wilkinson standing at fly-half.
Should Owen Farrell once again succumb to the injuries that have plagued his past two seasons, the only realistic fall-back for the men in white is Ford, which could prove costly in a series against the likes of sharp shooters Bernard Foley, Christian Lealiifano, and Reece Hodge (should he get his first call-up).
While Jones has a point, and England certainly has a lot to offer in attack, the issue of a consistent goal kicker is not one that can be ignored. For Eddie's sake, he had better hope Owen Farrell stays fit.