The back-and-forth on court battle between Steven Adams and Draymond Green has come to a close for the season.
Green's Golden State Warriors denied Adams' Oklahoma City Thunder a place in the NBA Finals in a thrilling game seven, winning 96-88.
In a postgame interview with TNT's David Aldridge, Green reflected on his experience with Adams during the series (from the 1:00 mark).
Draymond Green talks to @DAldridgeTNT after the big Game 7 victory. https://t.co/Ub4lgjhyiN

— NBA on TNT (@NBAonTNT) May 31, 2016
Green said he has "mad respect" for Adams and loves what he brings to the table.
"We had our instances, nothing was on purpose but he battle, I battle."
Let's reflect on some of the "instances" that took place between the two during the series:
The Thunder took game one of their Conference Final matchup against the Warriors, and Adams put up a line of 16 points and 12 rebounds.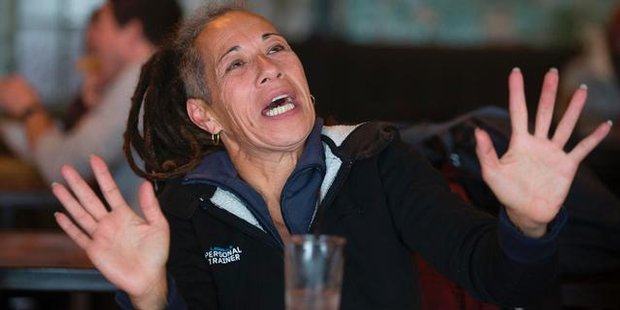 The Warriors would win game two 118-91 to level the series. During the game, Green hit a three pointer with Adams defending and made sure he knew about it:
Draymond Green hits a 3, then talks trash in Steven Adams' face pic.twitter.com/nsGydzmWQR

— gifdsports (@gifdsports) May 19, 2016
This happened too:
Green appears to knee Adams in the groin area during a layup.
Following that game, Adams was asked about Green's play. Adams responded by saying that Green had "peaked in annoyingness".
Steven Adams on if Draymond Green's roaming defense makes him more annoying: "He's peaked with annoyingness" pic.twitter.com/jxqBT0KTGZ

— Anthony Slater (@anthonyVslater) May 20, 2016
Game three played host to the kick felt round the world:
Steven Adams looks in agony after copping a kick to the groin.#NBAPlayoffs pic.twitter.com/szsrhZBXCK

— Nick Quinn (@Quinny_1) May 23, 2016
Adams and the Thunder won game three and four, putting the defending champion Warriors on the brink of elimination and taking a 3-1 series lead.
But the Warriors fought back, winning game five 120-111.
The big Kiwi would get revenge on Green in game six, throwing down a thunderous dunk right on top of him.
Where can I get a copy of that Steven Adams vs Draymond Green poster? pic.twitter.com/e4vFsQy4iH

— Chris Chang (@ChrisChang) May 29, 2016
Steven Adams with the metaphorical groin kick over Draymond Green

— Bruce Arthur (@bruce_arthur) May 29, 2016
After losing game six despite Adams' big dunk, the series came down to a deciding game seven.
Adams and Green were at it again, this time getting tangled up and wrestling each other to the ground.
Footage of Steven Adams and Draymond Green. pic.twitter.com/vQpavIvckI

— NOT NBA Tonight (@NOTNBATonight) May 31, 2016
The Warriors took game seven and eliminated the Thunder, ending this chapter in the Adams-Green rivalry.
Though with Adams and Green just 22 and 26 years old respectively, one can assume that there is a lot left to be written.