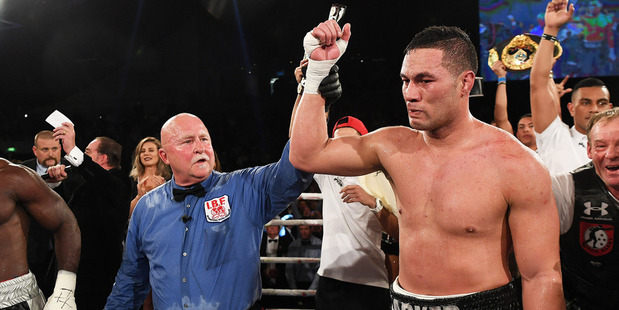 What did his win over Carlos Takam tell us about Joseph Parker that we didn't know before?
On the credit side, in outpointing a tough, cagey veteran in his first real test, his first fight against a top ten rated fighter, he showed he has heart and stamina.
In the middle rounds Parker looked tired, and it seemed he was going to be outhustled for the decision. But then he got his second wind and did enough to win deservedly against a fighter who never threw enough punches.
Parker also showed resilience. He was never hurt or wobbled. His hand speed was good, as was his excellent left jab. He fought sensibly, and with good variety.
But while his camp are understandably jubilant, they may also feel just a bit deflated. His vaunted power has been somewhat over-rated. There was never any indication that he could have got Takam out of there. And while he was never hurt himself, Takam has never been a knockout artist.
In his last 10 fights Takam has had three stoppage wins - against Michael Sprott, knocked out in his last five fights, against Jakov Gospic, who was stopped in four of his last 10, and against Marcello Luis Nascimento, who had also been stopped by Parker.
Takam, although rated in the top ten by some of the ranking organisations, has only fought two men who were themselves rated at the time. He drew with Cuban expat Mike Perez, and was stopped in the 10th by Alexander Povetkin - the Russian who was to have challenged Deontay Wilder for his WBC world title this weekend, but tested positive for meldonium and the fight was cancelled.
The way Parker held his hands low will also have alarmed his camp. Bigger punchers than Takam will have liked what they saw. Dillian Whyte, who called the fight for UK television, was not too impressed. He says he'd love to fight Parker, and is confident he would knock him out. This is the Whyte who gave fellow Brit Anthony Joshua a lot of trouble before being stopped in the seventh.
In any event Parker is now the IBF's official mandatory challenger, and if both remain unbeaten will challenge Joshua for the title in the first half of next year. That will be the one of the most anticipated, and eagerly awaited, heavyweight clashes of the last couple of years.
Both fighters owe their exalted positions as challenger and champion respectively to some high-handed behaviour by the IBF. When Tyson Fury upset Wladimir Klitschko last year he took his WBA, WBO and IBF championship belts. Despite being aware that there was a return clause in the contract, the IBF, with unpardonable haste, stripped Fury of its belt because he had not signed to meet its then mandatory challenger, Czar Glazkov.
They matched the competent but rather average Czar with unbeaten but untested Charles Martin, who won the vacant "title" when Czar twisted his knee in the 2nd round.
"World champion" Martin then accepted a challenge from Anthony Joshua, who is the heavyweight equivalent of Floyd Mayweather in that everyone wants to fight him - because they know that's where the big money is. Predictably, Martin was blown away in two rounds.
If Klitschko again loses to Fury he will retire. Even if he wins he will probably retire, which will mean a new round of elimination bouts. If the unpredictable Fury wins he will either defend against the mandatory challengers of the WBA and WBO or, more likely, take a huge payday for a domestic showdown with either Joshua or former WBA champion David Haye.
Either way, more confusion and title-stripping is likely from the ranking organisations - which will mean more opportunities for prospects like Parker.
* Whangarei-based Graeme Barrow has covered the fight game for many decades and was in London to watch Anthony Joshua fight at the O2 Arena in 2014 and 2015.