O'Reilly youngster tops Karaka weanling session, fetching $185,000 in willing bidding.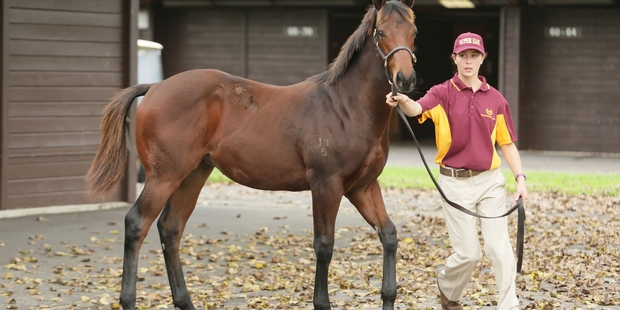 An attractive colt from the last crop of champion sire O'Reilly was the subject of spirited bidding on the second day of the New Zealand Bloodstock Weanling, Broodmare and Mixed Bloodstock Sale at Karaka yesterday, eventually falling to the bid of bloodstock agent Dean Hawthorne.
Acting on behalf of Queensland's Aquis Farm, Hawthorne went to $185,000 for the colt, seeing off stiff competition from Rider Horse NZ.
Presented by Hallmark Stud, the colt is out of the Volksraad mare Mexican Rose, a star two and three-year-old filly in Singapore.
"He's been purchased on behalf of Aquis Farm," Hawthorne said.
"Kacy Fogden, the racehorse and sales manager for Aquis, came over and she selected him. We both thought he was the best type of colt in the sale by a proven sire and they don't make any more O'Reillys. I think he's a great colt."
Hawthorne was unsure whether the colt would be seen back through a sale in future or join the Aquis racing team.
All told, $5,740,300 was traded. Strong demand saw the median up 175 per cent on last year's sale to $11,000 and the average at $24,119, up 90 per cent on last year's $12,113.
Pinhookers Bruce and Maureen Harvey, of Ascot Farm, in New Zealand and Steve and Ceri Jostlear of Ampulla Lodge, in Victoria, joined forces to secure the second highest priced weanling.
The quartet purchased lot 284, a colt by Tavistock from the Thorn Park mare Once More, for $180,000.
"We rated him one of the nicest horses in the sale," Steve Jostlear said. "He was a little bit immature, but we will give him the time and the proper preparation and I think he'll be a nice yearling."
Jostlear indicated the colt is likely to be presented for re-sale as a yearling at the Melbourne Premier Sale.
"We'll try and get him in the blue-riband session there. He has a great temperament, a great walk and he's a Tavistock and there aren't too many of them at the Melbourne Sales," he said.
The Ascot Farm/Ampulla Lodge partnership also secured a Reliable Man colt for $75,000 and a Tavistock filly for $65,000 on Monday.
The transtasman partners have been friends for several years and their combined skills saw a $500,000 profit netted from a pinhooked Exceed And Excel colt at the Gold Coast earlier this year.
"For years we used to butt heads at sales," Bruce Harvey said. "We'd buy a horse or underbid on one and we'd walk around the corner and it would be them again.
"So we just got chatting and got to know them and became very close friends.
"We decided to join forces on some and it worked really well," Harvey said.
A Cape Blanco half-sister to triple group one winner Turn Me Loose was the highest priced filly.
Signed for by New Zealand Bloodstock as agent, the scopey filly fetched $150,000 and is likely to make her way to the stable of Murray Baker and Andrew Forsman.
Sold by Mana Park's George and Maryanne Simon, the vendors were delighted with the outcome.
"We we're really rapt with the result. We had a realistic figure of $80,000-$100,000, so to get $150,000 has exceeded our expectations," Maryanne Simon said.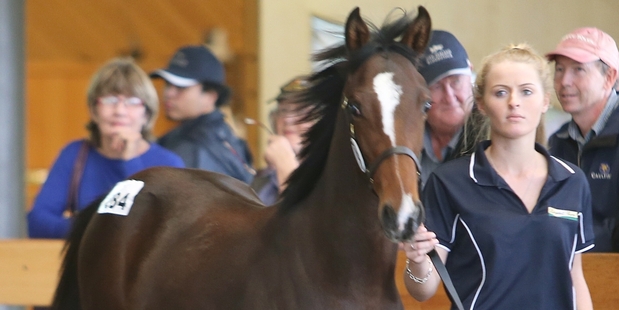 Top pigeon racer has high hopes for colt
A world-renown pigeon racer blazed his way into thoroughbred ownership at Karaka yesterday.
Chengke Sun is one of China's most successful pigeon racers, however a $100,000 outlay for a Tavistock weanling colt was his first foray into thoroughbred investment.
The Shandong province native, who is enjoying his first visit to New Zealand as guest of the Rider Horse group, purchased lot 222, a weanling colt by the sire-of-the-moment Tavistock out of Keeper mare Keeper On, for from the draft of Curraghmore.
Sun indicated the latest edition to his racing team was likely to remain in New Zealand to race.
Sun is ranked in the top 20 pigeon racers in China, one of the fastest growing sports in the country.
And the similarities with horse racing don't end there. Pigeon racing is serious business with bird pedigrees and race records laid out in catalogues for auction. In fact, Sun's $100,000 investment at Karaka could be considered small given he has previously paid $400,000 for a single pigeon.
"I am here for the week and really enjoying my time here," Sun said through an interpreter.
"I love my pigeon racing and think I could find the same love for horse racing. I hope this horse could be my next high-flyer."
- NZ Racing Desk