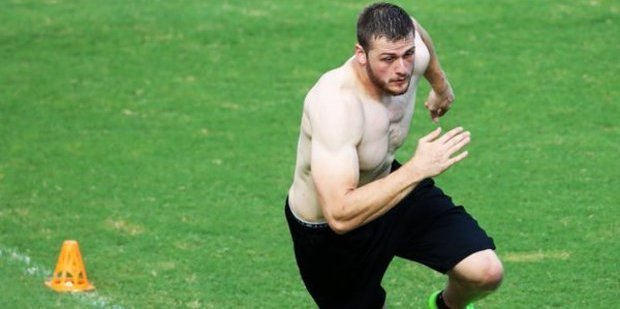 The Minnesota Vikings have made German wide receiver Moritz Boehringer the first player drafted straight into the NFL from Europe.
The Vikings took the 22-year-old Boehringer in the sixth round this morning with the 180th overall selection.
The 6-foot-4, 229-pound Boehringer put on a head-turning performance in March at Florida Atlantic's pro workout day, running the 40-yard dash in 4.43 seconds. Only three wide receivers at the league's scouting combine in February ran faster - leading to the label of the 'German freak'.
??????????????????

German WR Moritz Boehringer runs the 40-yard dash at FAU Pro Day. https://t.co/Sww2GlV12E

— NFL (@NFL) April 1, 2016
Boehringer didn't play competitive American football until 2013. He moved up to the German Football League in 2015 and played 21 games for the Schwabisch Hall Unicorns, totaling 16 touchdown receptions and an average of 20.9 yards per catch.
German born WR Moritz Boehringer gets the call to join the Minnesota @Vikings #NFLDraft pic.twitter.com/UrMhvfqg87

— NFL (@NFL) April 30, 2016
Now, Boehringer will be joining the likes of star running back Adrian Peterson in Minnesota, with the chance to make his NFL dream a reality.