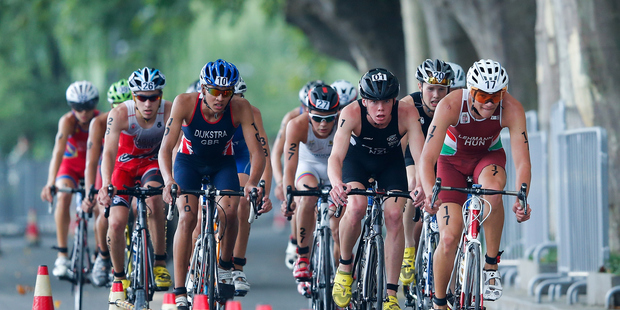 Triathlon New Zealand has named a six-strong Junior (U19) team to travel to the ITU World Championships in Mexico in September this year, with a full complement of three men and three women set to line up in Cozumel.

National Junior Champions Katherine Badham (Auckland - Coach Brent Foster) and Liam Ward (Auckland - Brett Reid) head the team, having earned their spots through their victories in Wellington during the Sovereign Tri Series this past summer. Joining them in the team are Elizabeth Stannard (Palmerston North - Will O'Connor), Ainsley Thorpe (Auckland - Bruce Hunter), Dan Hoy (Auckland - Nathan Richmond), Trent Dodds (Auckland - Bruce Hunter).

The team was selected by the Elite Selection Commission from results at National Junior Champs, Oceania Junior Champs, and Elite Tri Series (as per published selection policy).

National Talent Development Coach Juls Clonen will lead the team in the buildup and in Mexico and while he has only been in New Zealand for one year, he is excited about the talent emerging in the sport.

"I am still coming to terms with the quality of the juniors, coming from Europe the appreciation is more about how we are doing on this 'other' side of the world. What is the real level that we need for the Worlds? That has been the question and was the question going to Gisborne, but I was quite surprised in regards the level of the top athletes, it is okay, there is no big gap.

"Overall for the boys it is a good selection, two who are third year in Juniors and for them they have to go for a top ten and maybe even top 5 and 3, it depends on what is happening in Europe at the moment."

The athletes have all come through the National Talent Squad and as such is building international experience, racing here in New Zealand in ITU events but also overseas at ITU Continental Cup events, including the recent Sovereign Oceania Championships in Gisborne, where Dan Hoy picked up a silver medal.

Clonen says there is much to like about the team selected in the Junior Women's race as well.

"The girls are perhaps a slightly different situation.
Lizzie has experience already at the Youth Olympics which will help for a race such as the World Championships and then you have someone like Ainsley who is much younger and for her this will be her first really big international race.

"Each of them will go to Mexico with specific race plans and targets though and each will I am sure represent New Zealand well and make the most of the experience."

Clonen paid tribute to the regional and personal coaches working in the development space as being vital to the success of the programme.

"The personal coaches from the regions and our regional coaches are very important in this. The cooperation is important - this is a task for me to look for more support for them, they have earned it.

"I am happy we have a programme for the next few months, training with the whole team a few times and we go to Gold Coast for some training camps in July and August, and I am really happy with the cooperation from the personal coaches. This is one of my ways of working, I like to work together with the personal coaches, they are the beginning of the athlete's career and must be respected."

Clonen says the sport is building a strong pathway and support structures for athletes and coaches and says the past summer has laid a strong foundation for the future.

"I cannot look back because this is my first year, but what I am seeing I like a lot. When I think about Taupo and other races in the National Junior Series, the racing was big competition, I like it a lot and we have to work on this again, this is the base for everything, we need this to find very good athletes."

The naming of the Junior Team is particularly important in the context of the 2020 HP Strategy as the sport continues to invest and plan towards the Tokyo Olympic Games, working in a space that for some years had been under resourced. It is this current generation of NTS athletes that may be in the frame for 2020 and 2024, with investment in their continued long term development a focus for Tri NZ.

The named athletes are part of the NTS and during the coming months they will train together in Cambridge and at overseas camps, racing together in Penrith (AUS) and Osaka (JAP). The programme is designed to have the athletes in the best possible shape as they then head to the ITU World Champs in Cozumel in September.

Under 23 athletes meanwhile continue to work towards World Championships selection with opportunities through the ITU World Cup Series. Maddie Dillon and Fynn Thompson just missed the criteria in Gisborne but will have further chances to impress selectors, with the team to be reviewed after the ITU New Plymouth World Cup race this weekend, but not confirmed until July.

Triathlon New Zealand Junior Team

Katherine Badham, Auckland - coach Brent Foster
Elizabeth Stannard, Palmerston North - coach Will O'Connor
Ainsley Thorpe, Auckland - coach Bruce Hunter
Daniel Hoy, Auckland - coach Nathan Richmond
Trent Dodds, Auckland - coach Bruce Hunter
Liam Ward, Auckland - coach Brett Reid
Juls Clonen, National Talent Development Coach