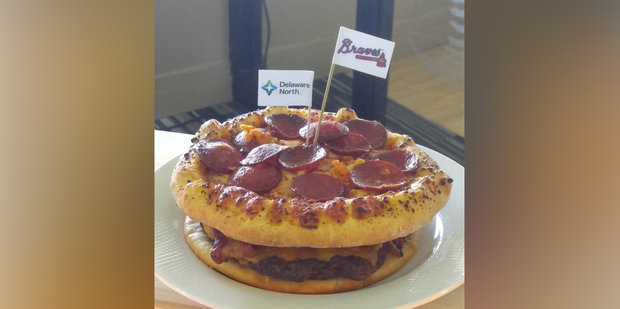 The Atlanta Braves American Baseball franchise are trying to entice more fans to come and watch their home games live by offering an insane stadium foods. But don't expect any clean eats.
Welcome to your new #Braves signature meals. pic.twitter.com/rn8vrqkGcv

— Braves Reddit (@BravesReddit) March 22, 2016
Leading the way is the "Burgerizza," which is described as a grilled 20-ounce beef patty, covered with five slices of cheddar cheese, topped with crispy bacon, and served between two 8-inch pepperoni pizzas.
Don't forget to bring a credit card. The Burgerizza is $26, and it's worth noting an angioplasty is not included.
Burgerizza. A burger between two pizzas. pic.twitter.com/uUymZMbvHq

— Braves Reddit (@BravesReddit) March 22, 2016
Cost on the true pizza burger selling at @Braves games will be $26 pic.twitter.com/fPcWDdfT3d

— Darren Rovell (@darrenrovell) March 22, 2016
That's not the only wacky item on the menu. The team are also introducing "The Everything Dog". This $15 foot-long hot dog will be layered with fries, chili, nacho chips, beer cheese and jalapeños, topped with popcorn and drizzled with Coca-Cola-infused BBQ sauce, served in a pretzel bun.
T.E.D "the everything dog" pic.twitter.com/8hN5LNxhgP

— Braves Reddit (@BravesReddit) March 22, 2016
Here are some of the other new choices, in all their artery clogging glory:
- "Punisher" - Country-fried smoked rib meat slathered in a Monster Energy-infused BBQ sauce, topped a fresh cut beer-battered onion ring and "slawsa" (because, why choose between slaw and salsa?), tucked between a toasted and buttered Hawaiian bun and pinned in place with two slices of candied bacon. Cost: $18.
The Punisher. Rib meat slathered in Monster energy drink-infused BBQ sauce. @Braves pic.twitter.com/Yz1xH18P7x

— FOX Sports South (@FOXSportsSouth) March 22, 2016
- "Tater Tot Chop" - A layer of tater tots pressed in a waffle iron, loaded with bacon, melted cheese and jalapenos, topped with a second tater tot waffle and served with Coca-Cola-infused ketchup. Cost: $16.
The Tater Tot Chop. Includes Coca-Cola-infused ketchup. Taste tester called it "freaking awesome." @Braves pic.twitter.com/BRIG0TFTBt

— FOX Sports South (@FOXSportsSouth) March 22, 2016
- "Sausage Sundae" - Smoked sausage, split down the middle, topped with macaroni-n-cheese, mashed potatoes, and pulled pork, finished off with BBQ Sauce and a cherry tomato (in an apparent nod to the health freaks). Cost: $9.
- "TOP-N-GO" - Your choice of Fritos topped with chili and cheese sauce or Doritos topped with pulled pork, pulled chicken and cheese sauce. Cost $9.
- AP and NZHerald.co.nz