Co-trainer confident of success in the New Zealand Oaks despite being a $63 outsider.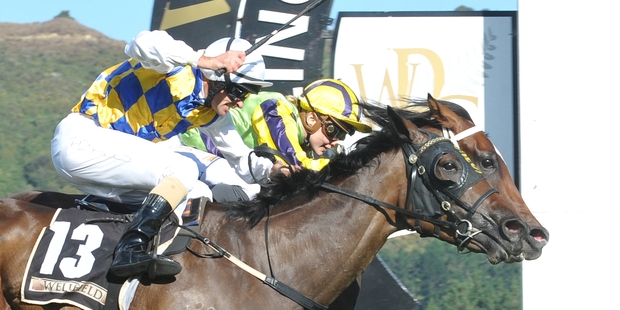 The price might have been $63, but co-trainer Graeme Sanders had a decent level of confidence Fanatic could win Saturday's $300,000 Wellfield New Zealand Oaks at Trentham.
"When I'm nervous all day you know something's going on," said Sanders yesterday.
Sanders' nervousness grew from the fact everything had suddenly gone the right way for the filly by Melbourne Cup winner Shocking.
"We've had a few hiccups on the way through. She pulled up a bit ordinary from a race at Te Teko then our rider Rosie Myers was injured."
Despite that, Fanatic had looked like the ideal 2400m type, making late ground behind Mime in the Sir Tristram Fillies Classic and behind Sofia Rosa in the Lowland Stakes.
"Her work started to come right then Mark Hills came over from Cambridge to ride her work and he said she felt fine. I told Sean [owner Sean Kiernan] she'd been only 90 per cent, but suddenly she was 100 per cent.
"I know it's easy to say afterwards, but I honestly did fancy her chances if everything went right and Sofia Rosa did a few things wrong."
That's the way it transpired when Sofia Rosa carried Fanatic, on her outside, halfway across the width of the course proper in the final 220m.
For her trouble, rider Danielle Johnson was suspended for eight race days and fined $1000 after pleading guilty to causing the inference.
Lisa Allpress, riding Shadows Cast in the Wellington Guineas, chose to defend a charge of careless riding and was found guilty, being suspended for six race days.
The way she sticks on bravely in her races, Fanatic looks as though she will develop into a 3200m Cups horse like her sire.
"Yes, I'm sure she'll stay against the older horses as she ages," says Sanders, who trains the filly in partnership with his daughter Debbie Sweeney.
Third-placed Strada Cavallo was hampered by the first two in the closing stages but after viewing the videos trainer Graham Richardson chose not to protest.
The Justice League came back to his best form with a brave win in the $100,000 Go Racing Wellington Guineas after a decent home-straight battle with Glorious Beijing and He's An Ace.
"That's the first time things have gone right for him in a good while," said trainer Nigel Tiley.
"Putting the blinkers on him has helped."
The favourite Marky Mark raced well below his best and trainer Moira Murdoch told stewards the 3-year-old would be spelled.