The Cornwall Cricket Club and the Crowe family; there is a certain symmetry there.
New Zealand cricket family royalty and one of the country's most picturesque, and successful clubs, nestled beneath One Tree Hill. A poetic mind might come up with a bacon and eggs, or salt and pepper analogy.
Whatever, the link between club and family began long before Martin Crowe first walked out to bat at Cornwall Park.
With the family based in west Auckland, the story goes that Dave Crowe, a former first-class batsman for Canterbury and Wellington in the mid-1950s, having visited Cornwall Park as an opposing club player, took an immediate shine to the setting and the die was cast.
His passion for the game was immense. His involvement with the club included working with the junior boys section, he was its first secretary-manager and club president from 1995-99.
Jeff Crowe, the first of the two brothers to captain New Zealand, came next, before heading to Adelaide to continue his development with South Australia for three seasons.
Then Martin, who became a Cornwall man after leaving Auckland Grammar.
His time with the club was limited as he was soon playing first-class, then test cricket and club opportunities were reduced.
That didn't hinder his affection for the ground, which has that bucolic, pastoral setting redolent of a Constable landscape in the middle of a bustling city, a slice of English parkland ambience where you might least expect it.
"The Crowe family has played a huge part in the Cornwall club," club chairman Ian Dee said.
"Dave through his involvement all the way through as player, with junior cricket, the way he looked after so many kids, to being a senior administrator in the club; and through Jeff and Martin."
Long-serving Cornwall premier coach and club man Rex Smith briefly shared the dressing room with Martin Crowe in his early days as a club player just out of school.
"Two things stood out for me," Smith said.
"One was his talent. He was clearly a superstar in the making. He stood out with his ability.
"The other is that he was a fairly precocious youngster in the sense of not being afraid to speak up and test the thinking, test the theory.
"You expect that from a guy with his talent I guess. But he did stand out as a young guy from that era, as opposed to others who might have been prepared to be quiet for a year," he quipped.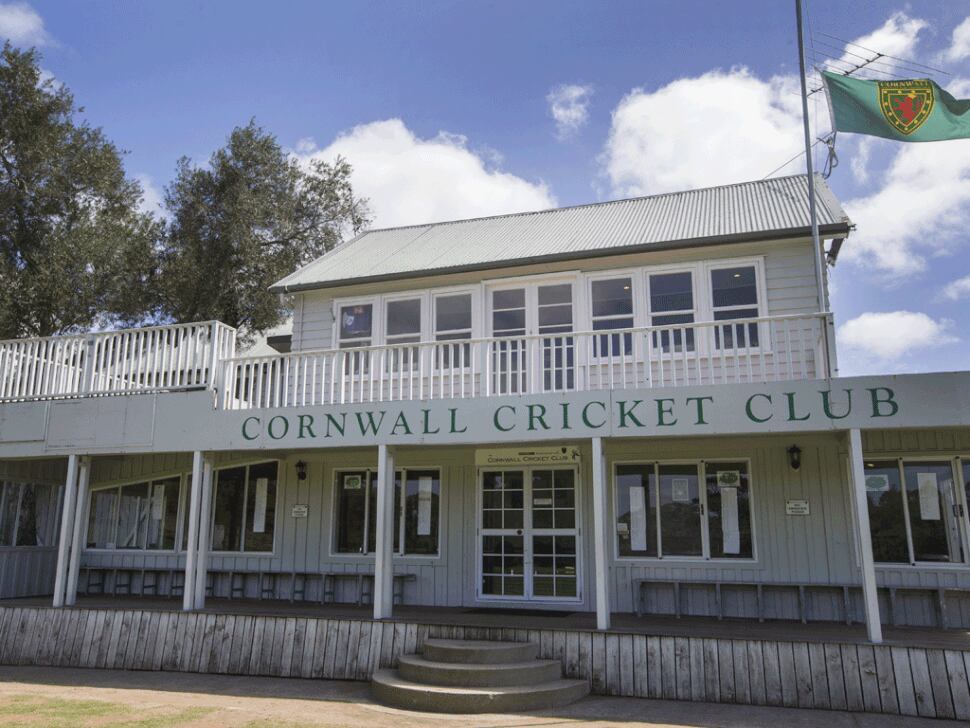 Smith believes the surroundings at the club mattered to Martin Crowe, with all that had gone before.
When he died, Dave Crowe's ashes were scattered at the park.
"My sense is that Cornwall Park was special to Martin," Smith said.
"He was quite an emotional person anyway. The link from playing there as a youngster, his Dad and his mother's influence, that whole family connection; Cornwall Park was a special place to play cricket and the club and connection meant a lot to him."
And the link with live on for a while yet.
This year the club has helped launched the Cornwall Cricket Club Crowe Family Scholarship, in conjunction with Auckland University.
Each year for the next three, a young player will receive a three-year scholarship, worth $5000 per annum. In 2018 there will be three concurrent recipients concurrently.
The first recipient is New Zealand under 19 representative Aniket Parikh, who was among the better performers at the recent under 19 World Cup in Bangladesh. He averaged 30 with the bat and only one player took more than his five wickets at 29.2.
The club will pay its respects to Martin Crowe on Friday with a gathering at the clubrooms after his funeral at Holy Trinity Cathedral in Parnell. A large turnout is anticipated. That appeals as a fitting way to mark the memory of man and club.