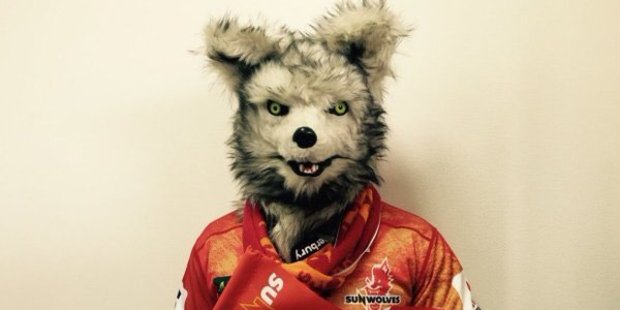 The Sunwolves might struggle on the field during their debut Super Rugby season, but they are making waves off the field after their mascot was unveiled.
The mascot has been called terrifying and creepy by scores of people on social media.
Read more: Gregor Paul: Pull the pin on the Sunwolves
To make matters even stranger, the mascot is not a full body costume like many others, instead being a werewolf mask with a human body.
Thing I find hardest to comprehend about the Sunwolves mascot is that I doubt it's ever seen sun. It looks like it feeds under moonlight.

— Tom Read (@traread) February 26, 2016
The urban legend says that seven days after watching a Japanese Sunwolves match, you will be killed by their mascot. pic.twitter.com/ev2x7KgK27

— Dylan Walton (@I_am_DWalt) February 26, 2016
Anyone else think the new Japan Sunwolves mascot looks a bit like The Crack Fox from The Mighty Boosh? pic.twitter.com/qm8RODKoyz

— Clint Wheeldon (@ClintWheeldon) February 27, 2016
The mascot was sideline to witness the Sunwolves' first ever Super Rugby game - a 26-13 loss to the Lions.