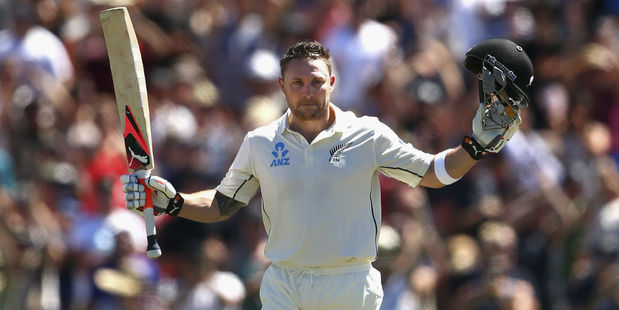 Imagine being James Pattinson tonight.
One consolation - the big Victorian will always be able to talk of "my part in the fastest of all test hundreds".
It was Pattinson who bowled the no ball, which Brendon McCullum cracked to gully when on 39 and where Mitch Marsh took a spectacular catch at Hagley Oval today.
Instead of striking what might have been a killer blow for Australia, Pattinson gave the irrepressible New Zealand captain a second life. And he seized it with relish, belting a world record 54-ball century to help New Zealand to 370 after having been sent in on a green pitch.
Don't feel too much sympathy for Pattinson. He has form for overstepping and this is the third time this summer he's taken a wicket with a no ball, having struck twice against the West Indies in Melbourne.
He claimed before the match he had conquered his front foot problems - "I'm feeling pretty good" - but is unlikely to have received a consoling word from his skipper Steve Smith.
So a potential 92-5 became 253-5 by the time McCullum was finished with his two-hour slash and burn.
Add in the wicket of David Warner, caught at second slip off just the second ball he received from Trent Boult as Australia got to 57-1 at stumps, and New Zealand were well satisfied.
McCullum and Corey Anderson produced the key partnership, a New Zealand record against Australia for the fifth wicket. Incredibly, they scored 179 in just 18.2 overs.
Anderson's hand should not be underestimated. While McCullum was shooting the lights out, the burly lefthander was dealing out his own share of hurt - eight fours and four sixes of often dismissive hitting.
BJ Watling overcame an ordinary run with the bat with a rapid 58, meaning New Zealand were delighted to reach 370 after earlier being 32-3. "For us it was a matter of trying to score our runs as quickly as we could so the pitch didn't have the opportunity to dry out too much," McCullum said. "In the end, we faced 60-odd overs and the ball still went around in that last session as well.
"I think tomorrow morning's really important. It seems to do a lot more in the morning session here so we've got to be on our lengths. If we bowl well, we'll get some opportunities. Then it's a matter of whether we take them or not."
Offspinner Nathan Lyon, who claimed another three wickets in spin-unfriendly conditions, denied heads went down as McCullum and Anderson took charge.
"I think a lot of momentum swung their way and credit to Corey and Brendon, they ran with it."
McCullum is adamant there will be help for the New Zealand seamers in at least tomorrow's first session, and perhaps longer.
"It'd be great to be able to take a decent lead into the second innings. If we can do that, then we can start to dictate play a little bit."
His counterpart Smith, who took two ripping catches in the slips yesterday, is desperate for Australia to win the series and nab the No 1 test ranking. Neither will happen if New Zealand press on to win from here.
Pattinson might yet be looking for a large hole by the end of this test.
SCOREBOARD

WAGONWHEEL

MANHATTAN