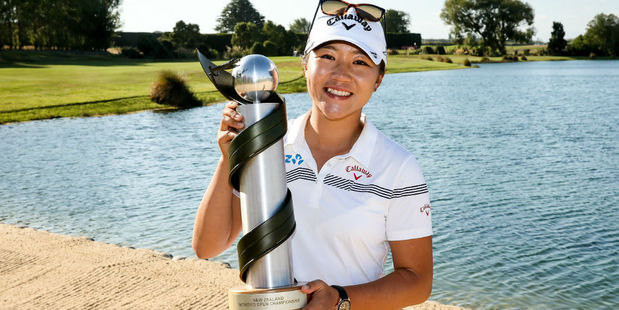 A "severe" magnitude 5.7 earthquake that hit Christchurch just before Lydia Ko's final round at the New Zealand Women's Open tournament couldn't derail the world No. 1's title defence.
Ko, 18, won her third New Zealand Open in four years and second on the trot, posting a final round of two-under 70 to win by two strokes at Clearwater Resort on Sunday.
Ko was just 10 minutes from teeing off in the final round when the quake, which caused a cliff to partially collapse in Sumner and cut power to around 70 homes, rumbled for 10 to 15 seconds.
The clubhouse at Clearwater swayed noticeable but on the course play continued uninterrupted.
Ko seemed undeterred as she made birdie at the par-5 second hole to move her overnight score of eight-under par to nine-under par and the outright lead.
But she inexplicably three-putted from close range in the par-5 fifth hole to give back a shot.
Despite solid ball-striking and good looks at birdie on the following holes she couldn't find another birdie and made the turn stalled on eight-under par. At that stage Ko was in a five-way tie for the lead alongside Emily Pedersen of Denmark, Amelia Lewis of the United States, Felicity Johnson of England and Korean amateur Hye Jin Choi.
But the 18-year-old Kiwi bounced back in front with a birdie at the par-5 10th to lead the chasers by one. She backed that up with a birdie two on the par-3 11th and while she had plenty of chances to extend her lead she didn't need them as her rivals flatlined on a warm but breezy afternoon.
Second place was shared by Choi, Felicity Johnson of England and Nanna Moertz Madsen of Denmark.
Ko's playing partner Justine Dreher was alone in fifth at seven-under par.