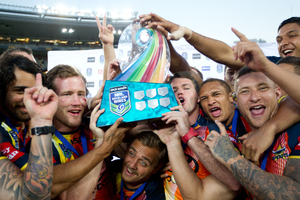 Dogged defence, incremental improvement, prioritising possession and enjoying the occasion.
If someone was compiling a "how to win the Nines" guide, they would be the key points, according to those who have achieved success in the past two tournaments.
The format - and fiesta type feel of the weekend - doesn't mean that some core league principles don't apply.
The North Queensland Cowboys set the benchmark in 2014, upsetting the favoured Warriors in the semifinal before outlasting the Broncos in a gritty final.
"We kept turning up in defence," recalled Cowboys captain Gavin Cooper. "I remember near the end of the game we tackled one of the Broncos over the tryline and there was five of us in the tackle. There must have been some space somewhere else but it showed the commitment that we had."
The Cowboys restricted the Panthers to 12 points in their quarter-final, shut out the Warriors (8-0), then conceded just one try to their Queensland rivals in the final (16-7).
"Defence wins games and that is what won it for us," said Cooper.
"It's true in any format."
The Cowboys also improved steadily across the weekend, before peaking on the Sunday afternoon. They progressed to the quarter-finals after just one win in pool play but were irrepressible in the knock-out stages.
Souths captain John Sutton wasn't part of the Rabbitohs triumph last year - he was at home nursing an injury - but has gleaned plenty of intelligence from his teammates.
"Holding on to the ball is pretty important," said Sutton. "You can throw it around a bit but if you do it at your own end and drop it you are under pressure straight away. It's harder to defend your line with the extra space on the field."
The Rabbitohs were masters in possession last year, especially in the final, where they were camped inside the Sharks' half for almost the entire match.
For Shaun Johnson, enjoying the event is as important as any tactical approach for the home town team.
"Last year we put that load on ourselves a bit too much," said Johnson. "After the first year when we lost in the semi we saw how it impacted on the crowd, when people left. In the back of our minds we didn't want it to happen again but we probably over thought it a bit too much.
"This year we are taking all that away; we need to enjoy it and the results will take care of themselves."