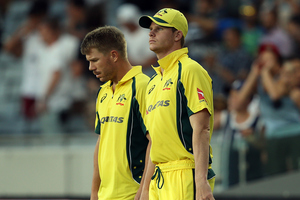 Australian captain Steve Smith admitted his batsmen need to adapt to New Zealand conditions smartly after a 159-run belting at Eden Park tonight.
There was no way back from 41 for six chasing 309 to open the Chappell Hadlee series on the wrong foot.
''We did what we did in the World Cup last time here; we lost wickets and we weren't able to survive," Smith said.
''I think playing over here against those guys we need to take a little bit longer to get ourselves in; give ourselves a chance and particularly on these small grounds you can make it up at the back end.
''So we didn't do that tonight and we're going to have to learn quickly and hopefully we can do that in a couple of days time in Wellington."
Australia's batsmen found a range of ways to get out.
Smith played Matt Henry onto his stumps; opener Shaun Marsh edged Henry to second slip; Glenn Maxwell went for a big shot second ball and was well caught one handed above his head by Kane Williamson at deep mid off; Mitchell Marsh lamely edged Trent Boult to slip; while David Warner went lbw to Boult and failed to refer it to the third umpire.
TV replays suggested the ball was sailing well over the top of the stumps.
Australia arrived on the back of a 4-1 ODI beating of India, but this was a significant setback - and the batting display mirrored that of the World Cup pool game on the same ground 11 months ago, when Boult took five for one in a withering 17-ball burst.
''It just came down to a half hour period when things really went out our way and we bowled well in a partnership," seamer Henry said.
He doubted there were any psychological points to be taken tonight.
''They're the world No 1 and I think they'll be up for it and ready to go for the next one."
Game two is in Wellington on Saturday.