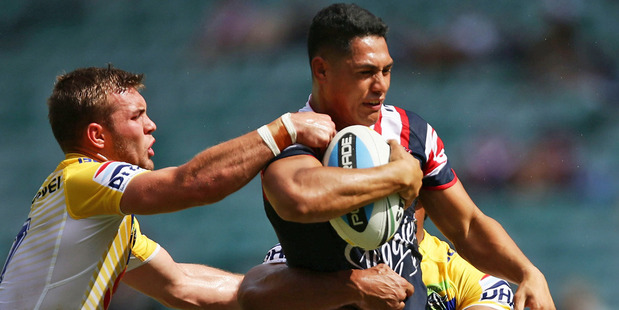 The Warriors are unconcerned that 2016 signing Roger Tuivasa-Sheck could yet be persuaded to change his mind and decide to stay with the Sydney Roosters.
Tuivasa-Sheck last week agreed to a three-year deal believed to be worth around $850,000 per season, which will see him replace a homesick Sam Tomkins at fullback for the Warriors, after the England international was granted an early release from the final year of his contract.
However, the Tuivasa-Sheck deal is far from sealed, with the NRL refusing to register a contract with a new club until after round 13 in the final year of that player's existing contract with his current club.
The Roosters have made their displeasure at losing Tuivasa-Sheck known and although they still have eight weeks to try to convince him to renege on the deal, Warriors chief executive Jim Doyle is confident the 21-year-old will stay good to his word.
"I'm not worried," said Doyle. "I'm not overly concerned about it. I know the Roosters don't want to lose him but I think he took that into account.
"It is a rule [the round 13 deadline] in the NRL and it has happened on occasion. There's probably 40 or 50 people that transfer each year from club to club and maybe you get a couple [changing their mind] over a four or five year period.
"So it does happen, but I know Roger pretty well and I don't think he is the type of person that would take his time, consider options, make a decision and then a few weeks later change his decision."
Doyle conceded the Roosters could ramp up their attempts to persuade Tuivasa-Sheck to stay and pull at the heart-strings of the player they first recruited from New Zealand as an 18-year-old.
However, he is confident the Kiwis test flyer had fully considered all the pros and cons of the move and was comfortable in his decision to return home to Auckland to join the Warriors.
"Any club who has got a player like Roger I'm sure would want to keep him but I think he's made his decision for various reasons and I'm confident that he'll be playing here next season," Doyle said.
"The hard thing to do is to make the decision and naturally then tell your teammates. Once you've done that you've gone through a process and you've thought about the ripple effect and thought about changing to another club and what that means, so he's done all that.
"I don't see Roger as being the type of person that would change his mind. But he's got until round 13, they've got until round 13 and we'll hope that he honours the documentation that he signed."
Doyle reiterated the fact that Tomkins' early release was subject to a condition that the Warriors secured a suitable replacement and said he would not be going anywhere if the Tuivasa-Sheck signing doesn't come off.
"Obviously if, for whatever reason, that suitable replacement fell through then that condition wouldn't have been met if that was the case."
Tomkins has confirmed he will return to the UK Super League and is expected to announce a new deal in the coming days, however Doyle was already satisfied the Warriors would receive a portion - believed to be around $400,000 - of the world record $1.34 million transfer fee they paid Wigan for him back in 2013.
"We are comfortable that we will receive compensation," he said.