Back-rower allowed time off for funeral in Tonga ahead of showdown with Panthers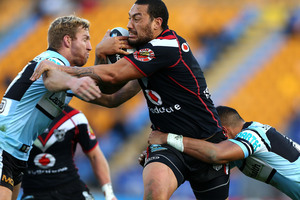 Back-rower Feleti Mateo is set to make a late dash from his grandfather's funeral in Tonga to join the Warriors in Sydney ahead of Sunday's must-win clash against the Panthers at Penrith.
Mateo and fullback Sam Tomkins were both absent from an intense and physical Warriors training yesterday, with coach Andrew McFadden revealing the Tongan international was given time off to travel to be with his family.
"Feleti's got a funeral in Tonga so he'll meet us in Sydney," McFadden explained. "There's nothing to read into it. Sam's had something for a while that he had to go to, so that was always planned."
Mateo is listed to appear in jersey No20 on an extended bench but McFadden laughed when asked if that implied he might be a late scratching from the side.
"I think that's more about jumper sizes than anything else. Feleti will be likely to play," he said.
The talented ball-player earned a recall to the top grade after spending last week with the second-tier NSW Cup side, following a poor round 24 showing in the Warriors' heavy defeat to the Roosters.
McFadden was confident Mateo would overcome the twin distractions of a week away from the first grade side and his family bereavement, to arrive ready to perform at his best on Sunday.
"Yeah, I do. He's obviously got lots of experience and he played exceptionally well in our cup side on the weekend. He's obviously going through a tough time at the moment but he's extremely keen to play and I'm very confident that he'll produce."
Unlocking Mateo's undoubted footballing talent for a prolonged stretch is something that has proved troublesome throughout his career.
The 29-year-old had a slow start to the year and found himself dropped to NSW Cup duty for a fortnight when McFadden took over from former coach Matt Elliott in round six.
Mateo made a strong return in the Anzac Day win over Melbourne, scoring a try to help the Warriors kick-start their return to form through the mid-season.
McFadden conceded his enigmatic form was frustrating but insisted his match-winning ability made him almost impossible to leave out.
"At times, yes. But he's got a unique skill set that can win a game so as long as he's got that, and he's got the right attitude towards his football, he needs to be in our side."
Panthers coach Ivan Cleary was in charge at the Warriors in 2010 when Mateo arrived in Auckland, and earlier this year spoke glowingly about his unpredictable attacking skills.
"That's Feleti, really. He's always been someone who plays differently to a lot of other people," Cleary said. "The facts are that Feleti can do a lot of things that other players can't and that's the beauty of him.
"You've got to respect that because he's certainly capable of putting on some good plays and really hurting you."
Manu Vatuvei, a teammate and close friend, who is also of Tongan heritage, spoke of the need to give Mateo time to grieve with his loved ones. The veteran wing was certain he would rejoin the side fuelled with determination to turn in a good performance against the Panthers.
"We just want to give him his space for him and his family grieving with their loss. He's pretty down on that but he'll take a lot out of it to come back into the team and perform really well. We're looking forward to having him back in the team and meeting him in Sydney," Vatuvei said.