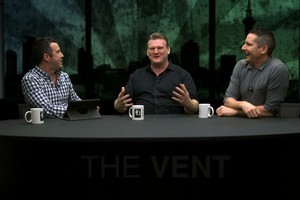 Five-eighth Thomas Leuluai says making the top eight will mean little if the Warriors don't go on to make a serious challenge for the NRL premiership.
While pleased with their 42-0 thumping of the Gold Coast Titans last Sunday, Leuluai said the Warriors can't look beyond their must-win, final-round away clash against the Penrith Panthers on Sunday.
Should they achieve the desired result and advance to the playoffs, the veteran playmaker insists they can't be content and must continue to strive for bigger and better things.
"It's quite simple for us, if we win next week we're in or we give ourselves a good chance," Leuluai said. "Even if we look beyond that, if we want to do something in the playoffs we've got to play well next week, we can't limp into the finals. We don't want to just make the playoffs and then 'OK, good we've done that'.
"Finishing eighth to me doesn't seem much different to finishing ninth. I know it will be good but it's not finished there. It's not good enough because that's silly just playing so you can make the eight.
"If we want to do something this season, if we're serious about it, we need to try and give the whole comp a shake. We've still got to win this week and we've got a lot to work on, too."
The 29-year-old had a leading hand in steering his side to victory, enjoying good cohesion with No 7 Shaun Johnson to kick effectively for field position, and played a role in two of his side's seven tries. His job was made easy on the back of a dominant forward display.
"We were just on the front foot all the time which just makes kicking easier, makes our decisions with the ball easier. You don't have to create too much because you're rolling through them. You ask any half, they'd say that if the forwards are going good it's quite easy and I thought they were outstanding."
Never one to get carried away, Leuluai remained unhappy with aspects of their performance and says they need to improve if they want to have any chance of competing with the top-ranked teams.
"There are periods in the game where we slip off and we're on the back foot and give away penalties and when we have a couple of poor sets with the ball.
"There were a couple of sets where they just rolled through us really easily and against better teams those sets generally end in points so we've got to get better."