Edward and MacKenzie storm to victory in record time while Bond and Murray continue their dominance with second win at world championships.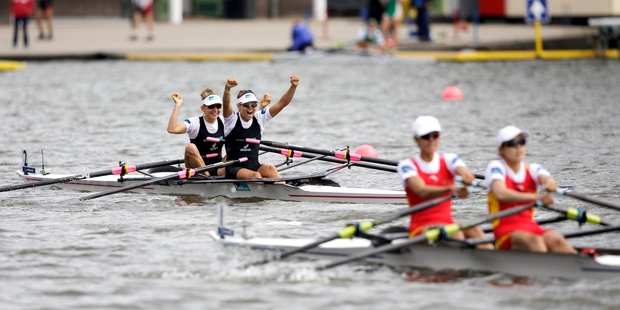 Start as you mean to go on; for lightweight women Julia Edward and Sophie MacKenzie it'd be hard to find a more appropriate motto.
The pair had their first event as a lightweight double sculls combination at the world championships in Amsterdam and won the gold medal. Just like that. Talk about a perfect mesh on seriously limited preparation.
The women also won the gold in a world-best time of 6min 48.560s, heading home Canada's Lindsay Jennerich and Patricia Obee by fractionally under two seconds on the Bosbaan.
Arms were flung in the air, you'd suspect at least partly at the sheer unexpectedness of the victory.
That came shortly after the champion men's pair Eric Murray and Hamish Bond reinforced their claims to be the sport's supreme crew with their 19th straight world cup, Olympic or world championship victory. Unbeaten since the start of 2009, they were the banker among Rowing New Zealand officials' medal ambitions and showed why.
But the women's is a cracking story.
Edward, who has won eight of her nine races this year in either a single seat or a double, was to team up with Lucy Strack this year. However Strack pulled out after the opening world cup regatta in Sydney in March.
So Rotorua 23-year-old Edward went solo in the non-Olympic lightweight single and was untouchable through the second and third world cups in France and Switzerland.
MacKenzie, who won the under-23 women's double title with Zoe McBride in Italy at the end of July, was drafted in for the worlds to dramatic effect.
"I actually couldn't believe it crossing the line," Edward said. "It's been a dream."
Which could not be said for Murray and Bond, who simply keep raising the bar.
In fact the British pair of Matt Langridge and James Foad did better than most in crossing just 4s back for silver, with South Africans Vincent Breet and Shaun Keeling taking bronze.
A day earlier, Murray and Bond had won the non-Olympic coxed pair title, with cox Caleb Shepherd.
Their combination of supreme fitness, precision of stroke and absolute certainty in going about their business has made them the benchmark.
It is 13 years since the coxed and coxless pair double win has been completed, by the legendary British duo of Matthew Pinsent and James Cracknell.
Murray suggested yesterday they would not attempt the double next year at Aiguebelette, France.
"We wanted to challenge ourselves beyond the usual three races in a week," Murray said.
"It was something different to focus on midway through the Olympic cycle to break it up a bit. It was fun for this week."
Still you would bet against the pair's ability to pull it off at your considerable peril.
Women's pair Rebecca Scown and Louise Trappitt, who have had an up-and-down year, ended it with a satisfying bronze, behind Britain's Olympic champions Heather Stanning and Helen Glover, and the United States.
There was also gold in another non-Olympic class, the women's four, for Kelsey Bevan, Grace Prendergast, Kayla Pratt and Kerri Gowler.
The luckless women's quad finished fifth, shunted out of their initial lane because of a change in wind direction into the far less favourable lane five.
New Zealand had four A finals to come early today, including single scullers Mahe Drysdale and Emma Twigg.
On golden pond
*Julia Edward's victory in the lightweight double with Sophie MacKenzie was her eighth win in nine races, single or double, on the elite circuit this year.
*Hamish Bond and Eric Murray have now won six world titles as a combination and the coxless pair victory yesterday was their 56th successive win since the start of the 2009 season.