Veteran broadcaster calls time on his involvement with international rugby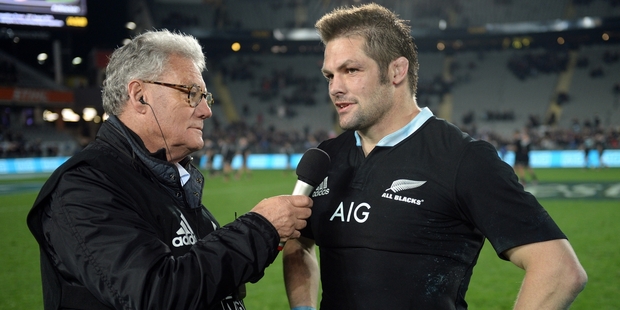 The radio bug claimed Peter Montgomery early. Year-round, he would listen to baseball games from America or crackling short-wave cricket commentaries from Australia.
It was a magical world for the Dunedin teenager, one he envied but never dreamed he would embrace for more than half his 70 years.
"I used to tune into AFRTS (Armed Forces Radio and Television Service) and listen to games like the Chicago Cubs playing at Wrigley Field," he says breaking into an impersonation of one of their announcers, "or those great Australian cricket commentators".
When Montgomery moved north, Friday nights became a regular chance to share drinks and ideas with media friends like Bill McCarthy, Ray Cody and Alan Richards. Discussions led to Montgomery starting his broadcasting work 44 years ago.
His final All Blacks test came last week at Eden Park and there is still some ITM Cup work to finish and more sailing but Montgomery is laying down his international rugby tonsils.
It's time. He and wife Claudia have other things they want to do.
"I've been lucky, now it is someone else's turn, it is time for a new voice," he said.
Through his ability, passion and some slices of fortune, Montgomery began his radio career at the 1970 World OK Dinghy championships, graduated to the One Ton Cup the next year before branching out into hockey, league and rugby.
Frowns creased some foreheads when Montgomery missed his first "live" cross signal at the OK champs and the audience heard several fruity descriptions before he got into his work. It's a rookie error he has rarely repeated.
Rugby caller Tony Johnson loved the effusive sideline comments Montgomery delivered which added colour and explanations to his observations.
"PJ had a great knack of picking up on things and he defined that broadcaster's role. He had an incredible ability to find some phrases for every occasion. He had his own style and a strong vocabulary and was always tuned into the excitement of the moment.
"I remember he talked about a coach playing the black notes and another team applying the blowtorch and those were his sort of rich, powerful descriptions.
"Some coaches like Ian McIntosh, Brad Meurant and Graham Henry were happy enough to give a few halftime thoughts to Pete but one time at Onewa Domain, he tried to interview a Northern Transvaal coach who was just trying to get away from PJ.
"It was like a dog chasing a postman, he wasn't going to let up. He got him but that wasn't his most insightful interview of all time."
In 1972, Montgomery was involved in the first live provincial rugby commentary between Waikato and Counties with Ron Hemi and Ian Clarke as his halftime interviews and then on September 16, 1972, Montgomery provided the sideline analysis during the first All Blacks test televised live in New Zealand.
The interval was five minutes and Brian Lochore and Kel Tremain had to get from their grandstand seats to the tunnel to deliver their expert answers to Montgomery's inquiries.
"The All Blacks belted the Awful Aussies that day, then in 1973 England toured and were given no chance but had a boil-over win at Eden Park when I put the captains John Pullen and Ian Kirkpatrick to air."
A few years later Montgomery needed his gumboots to cope during the water-polo test at Eden Park after senior rugby official and previously harsh opponent of TV broadcasts, Ron Don, cosied up to the broadcasters to tell people the test was still going ahead.
Around that broadcasting and sporting passion, Montgomery managed a New Zealand Motor Corporation dealership in Takapuna before switching to a Honda dealership for three years in Silverdale.
Not long after covering the 1987 America's Cup, Montgomery got several offers to take his broadcasting talents offshore or to a fulltime level. His interest in his dealership was waning so he sold.
"My sporting hobbies became my interest and consuming passion and when I got the chance to be fully involved, I took it," he said.
In the late 1980s former All Black Andy Haden was unavailable for a couple of sideline radio stints and Montgomery picked up that test role with Graeme Moody doing the commentary and John Graham as the expert analyst.
"In those days there was only provincial and test rugby and I was there on the sideline through all that wonderful period. Some of the things I saw and heard was a little rich but then there were the other fascinating parts.
"I'd hear Grant Fox a lot and his awareness and tactical skill was magnificent. He was always talking and directing things and if ever Michael Jones opened his mouth, everyone listened.
"The great thing about working in radio was you could move up and down the sideline while the TV man had to be anchored close to his monitor. I was free-roaming and what happened to me has been a very special privilege.
"I got the best seat in the house and many times you would watch what was occurring somewhere rather than simply following the ball."
One passage of play sticks in his memory when France scored their last-minute try from the end of the earth in 1994 to defeat the All Blacks.
"I was there ringside. The try was extraordinary, so was the aftermath."
Montgomery tried to get journalist Ian Borthwick to help translate some of the French reaction while All Blacks coach Laurie Mains looked shaken.
He was ashen and wondering how the All Blacks had been beaten by skill and a once-in-a-generation try. It was amazing to see all that up close just like some of the conversations and sights under the stands.
There were many special players, Zinzan Brooke, Michael Jones, Sean Fitzpatrick, Frank Bunce, Walter Little and country boys like Rene Ranger and Norm Berryman.
"Sadly Olo Brown was the only player who would never give me an interview. Andrew Hore would give you some really dry irreverent southern humour while Jerome Kaino and Keven Mealamu are such gentlemen."
So far Montgomery has not shed any tears about his Last Waltz on the test sideline.
The latest All Blacks victory was magnificent and his concentration was all about getting the job done. Working on the sideline reminded him of Hemingway's book, Death of the Matador, which showed things from a different perspective.
"Being on the floor for the last 20 minutes of the 2011 World Cup final was just so dramatic," Montgomery said.
"Watching McCaw's gallantry with his broken foot was up there with other incredible pieces of sport. His decorum on the field is also remarkable in the way that he listens and accepts decisions.
"He is extraordinary as a person with his physical attributes and as a leader. Other events that left their mark on me were my first Olympics in '76, Peter Blake's fantastic second Whitbread and interviewing Muhammad Ali for an hour."