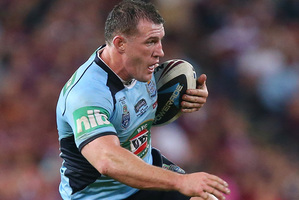 I am angry, flabbergasted, dumbfounded, irate, indignant and exasperated. Most of all, I'm disappointed.
It's now more than a week after the punishments were dished out to Cronulla's past and present players who took peptides but I still haven't calmed down. I can't believe those players who knowingly took performance-enhancing drugs in 2011, who knowingly cheated, received what amounts to only a three-game ban.
It's a joke, but the punchline isn't funny.
The golden rule for any athlete is that you are responsible for what you put in your body. Even though peptides weren't banned at the time, players would have known what they were doing was wrong, that what they were doing was cheating. They are more informed about sports science than they have ever been.
It goes to show you how desperate the club were to achieve success at the time and the lengths they were prepared to go to to achieve it.
I used to play for the Sharks and it's a club that will always hold a special place in my heart, but this whole sorry episode shows how broken and disjointed they have been and the lack of leadership.
They clearly looked at ways they could try to bring success and improve their profile - and thereby bring in more sponsorship dollars - and were prepared to go down this road. It doesn't make sense but at the time they must have thought the risk was worth it.
That's one of the things I worry about now. Australian drug agency Asada's anaemic punishments sends the message to young players now that risks are worth taking.
NSW and Sharks captain Paul Gallen must now go down in history as a drugs cheat.
Writing those words leaves me sad. I thought he epitomised what league was about; players who achieve success through hard work. Gallen probably wasn't the most gifted of players but he - in my mind, anyway - always gave 100 per cent and more. He did nothing flashy but he was the heart and soul of a team, of the game. Now he's tainted.
Gallen was probably at his peak in and around 2011, when players were taking peptides, and has been richly rewarded for that "form" as one of the game's highest-paid players.
I have met him on a number of occasions and really enjoyed his company. I'm not sure what I would say to him now.
League legend Brad Fittler said earlier this week Gallen shouldn't now receive the Brad Fittler Medal for NSW's best player in this year's State of Origin series and I agree. Gallen's name has no place in the record books and it would be a lack of leadership if the NRL allowed this to happen. The NRL need to take a hardline approach on the issue and send out the right message.
I feel for the clubs who have tried to succeed the clean way, the players who have toiled for years. I also feel for players who improve because, as a result of the actions of a few, people will now question how they did that.
There's no doubt it has been a sad episode for league.