Despite steering All Blacks to huge win over Wallabies, the No 10 says he's got plenty to work on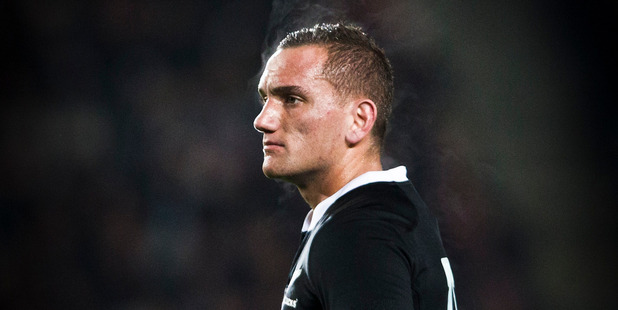 As a self-confessed perfectionist, Aaron Cruden is never satisfied.
After writing "control" on his left wrist tape in bold, black letters, and delivering exactly that and more in the 50-point thrashing of Australia at Eden Park, a six-tries-to-two thumping which locked up the Bledisloe Cup for yet another year, most could forgive him a sense of contentment.
But as he reflected on his performance yesterday at Eden Park, only metres from where the All Black pack marched the Wallabies' scrum backwards to earn a penalty try and open the floodgates, Cruden was merely happy. Satisfied, though? Not quite.
"I have a lot of improvement in me," he said. "There are certain areas of my game I'm trying to evolve. I'm always trying to add things. The good thing about this team is that you're always getting feedback, whether it is positive or a little bit of constructive criticism to help you as an individual to get better.
"I'm a bit of a perfectionist. I always set my standards pretty high and I'm always striving to keep raising that bar. For me, I'm never really content with where I'm at, I'm always trying to evolve and hopefully that continues."
After Saturday's performance, and his many other good ones in his 34 tests - not to mention his efforts for the Chiefs in helping them to two Super Rugby titles - it seems unfair to compare him with Dan Carter. That is his lot, though, and will be until, or even after, Carter calls it quits. The pair must be considered the two best No 10s in the world at the moment, and as his closest rival, Cruden will always be judged alongside him.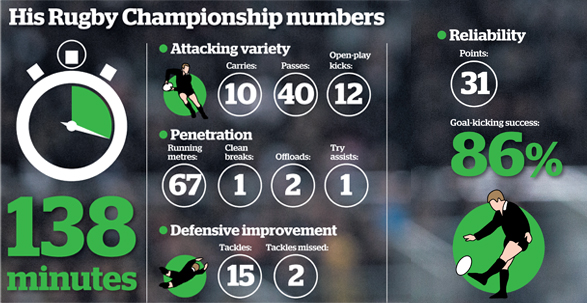 Asked if he is closing the gap on Carter, the 25-year-old replied: "Hopefully. I can only control what I can control. Obviously with DC being out injured over the last couple of weeks it's given me more time in the No 10 jersey. For me, I'm just trying to make the most of every second I get ... hopefully I am closing the gap. Regardless, any part that I can play in this All Black team is pretty special."
Cruden has come a long way from the hesitant 21-year-old who struggled in his starting debut against Australia in Sydney in 2010, a fact he freely admits. On that night he just couldn't get anything going, including such basic things as re-starts, the All Blacks sneaking home 23-22 with the help of replacement first-five Colin Slade.
"I remember getting that opportunity to start that test ... I was really nervous. I wanted things to go perfectly. You know, rugby is an imperfect game, you're never going to have the perfect performance. For me it was about relaxing and maturing as a first-five - just understanding my strengths and trying to play to those."
Now, as he prepares for the All Blacks' next assignment against Argentina in Napier a week tomorrow, Cruden recognises the difference between taking control of a test, and trying to control everything in a test. It is something he can do better than most.
"As a first-five, there are times in the game when you've got to stand up, be the man and take control - guide the guys around the paddock and try to apply pressure on the other team. That's one thing I might never grasp fully, but as long as I try to keep improving on that and keep evolving then I'll be happy."
• Aaron Cruden's interview was made possible with the assistance of sponsor AIG, which has pledged US$50,000 to improve rugby safety, starting with six clubs around the world. For more information, go to www.AIG.com/SafeRugby
- APNZ