Having right attitude is as vital for success as preparation, says Andrew Nicholso.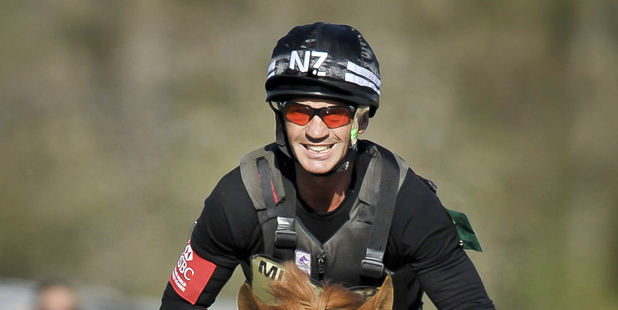 Andrew Nicholson gives short shrift to any notion that top quality preparation will guarantee success when the World Games eventing competition begins in Normandy tomorrow night (NZT).
The New Zealand team is strong on paper, certainly among the leading contenders for the teams title and with high individual hopes too and has had a series of camps leading up to the Games.
However, Nicholson, the world's No 1 rider last year, is wary of getting too far ahead.
"It doesn't matter how well you prepare. If you don't deliver it's a load of rubbish," he said.
"We have to deliver, but we've got a very good bunch of riders and horses and have been going well consistently in the last couple of years."
Nicholson is teaming up with fellow veteran Mark Todd, Jock Paget and Tim Price. Price's wife, Jonelle, and Lucy Jackson are riding as individuals.
Nicholson won the individual bronze in Kentucky at the last Games in 2010 and was part of the team which also finished third.
He was there, along with Todd, back at the first edition of the Games, in Stockholm in 1990, when New Zealand won the first of their two team golds -- the second was in 1998 in Rome -- and Blyth Tait won the individual crown.
Waikato-born and raised but domiciled in England for the past two decades, Nicholson was there through the lean years early in the 2000s. The attitudes were wrong back then, he felt. He likes what he's seeing now.
"For me the big plus is it's back to the old days when Vicky Latta, Vaughn Jefferis, Tait, Toddy and I all wanted to win.
"We had quite a few years when it just felt people wanted to get in the team to be in a team.
"We all want to win and that's what gives you a good team, I think."
Tim Price, who won the Luhmuhlen four-star event in Germany recently on Wesko, are a strong, in-form combination, Paget is viewed as not having lost much of his competitive edge with his layoff over the Clifton Promise positive drug test at Burghley last year, and "Toddy doesn't need much prodding to get him up", Nicholson quipped of the two-time Olympic champion.
He has plumped to take 14-year-old gelding Nereo to Normandy ahead of his other equally well-performed horse, Avebury, who is being prepared for the Burghley four-star event, which starts on September 4.
"People might say on form it should be Avebury [who won the recent Barbury Castle and Gatcombe Park three-star events] but Nereo has travelled well, is a tough old campaigner and I have a lot of faith in him."
Nereo was the horse on which he finished an unlucky fourth at the London Olympics and was second at both Badminton and Burghley last year.
The 53-year-old admitted he'll be "gutted" if he doesn't perform strongly over the World Games and Burghley fortnight. "I've got the horsepower and it's all going very well. I'm looking forward to it."