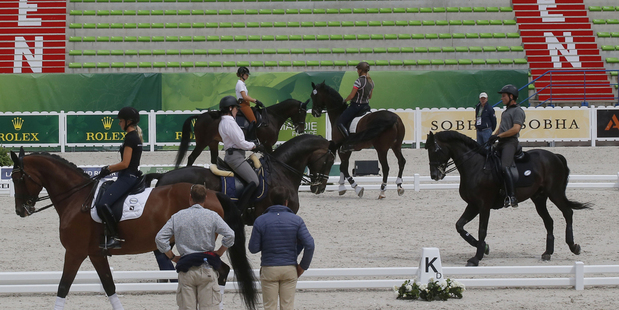 New Zealand's pursuit of equestrian success at the World Games starts in Normandy early tomorrow (NZT).
While most of the focus for New Zealand is in the eventing team, chasing their first gold medal for 16 years, there are a range of other equine competitions, starting with Paralympian Anthea Dixon.
Cantabrian Dixon, 32, rides Doncartier in the grade two para-dressage event.
The discipline has attracted around 100 riders from 33 countries.
Dixon is confident 18-year-old chestnut Doncartier is in good shape to produce a strong performance.
''I will be paying attention to all the little details," Dixon said.
''He feels a million bucks, and that's the most important thing."
Dixon will use the team test as a warmup for her individual championship on Thursday night (NZT). The top seven from that event progress to the musical freestyle the following day.
Para-dressage chef d'equipe Warrick Allan is confident Dixon and Doncartier wil make the cut.
''Anthea took what she learnt at the London Paralympics and has progressed to a whole new level," he said. "I believe she is more than capable of a personal best here."
The world games are also the first Rio 2016 Paralympic Games qualifier for the discipline.
New Zealand are also represented by teams in the endurance on Thursday night (NZT), the eventing, which starts on Thursday and runs until early Monday (NZT), vaulting, beginning on September 2 and showjumping, which begins the same day.
A record 76 countries are expected to take part, and over 500,000 people are expected to attend the two-week event.